Kherson State Plant "Pallada" Launches Floating Drydock for Limassol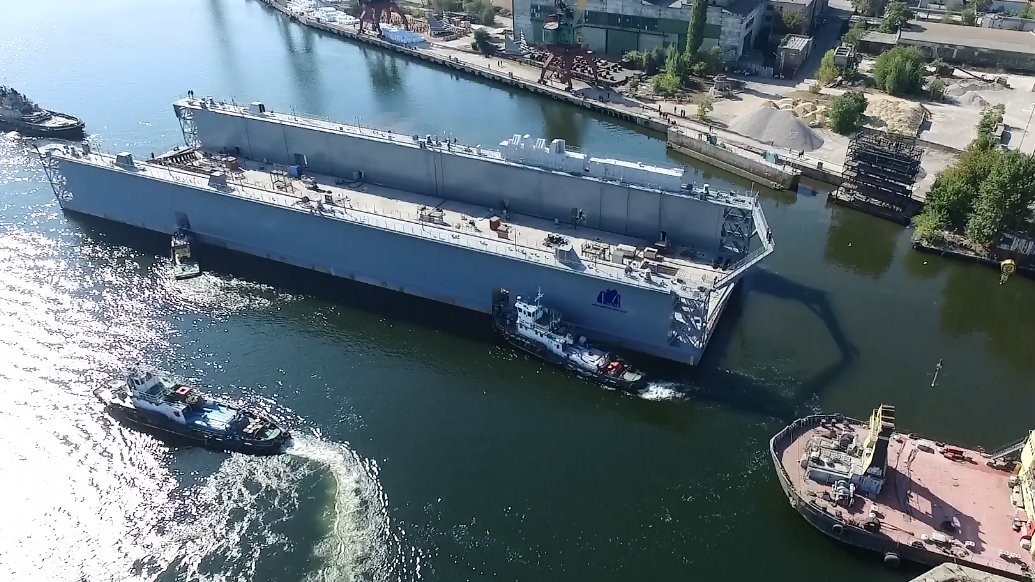 On October 3, at the Kherson state plant "Pallada" in Ukraine, the 7,100 TLC floating composite dock "ERENEOS" was launched from dry dock. After carrying out tests, the floating dock will be towed to Limassol, Cyprus, where it will be used for servicing ships for offshore development.
The pontoons of the dock are made from heavy marine reinforced concrete based on sulfate-resistant Portland cement, and the wing-walls are made from shipbuilding steel. This combination of materials allows lowering costs by 2-2.5 times in comparison to similar steel docks.
The floating dock was designed by the design bureau of "Pallada" in accordance with the Rules and under the supervision of the American Bureau of Shipping.
About PALLADA
Originally established in 1936, PALLADA is one of the largest yards specialized in the production of floating constructions, especially floating composite docks with reinforced concrete pontoons and steel walls. PALLADA uses special "caisson-type" technology for reinforced concrete pontoons. This method allows the yard to create different floating constructions without length and breadth limitations. Over the years, we have constructed about 80 floating docks of different lifting capacity. For more information, please visit http://www.pallada.ks.ua/en/index.html.
The products and services herein described in this press release are not endorsed by The Maritime Executive.