Invitation to Next Generation Marine Power & Propulsion Conference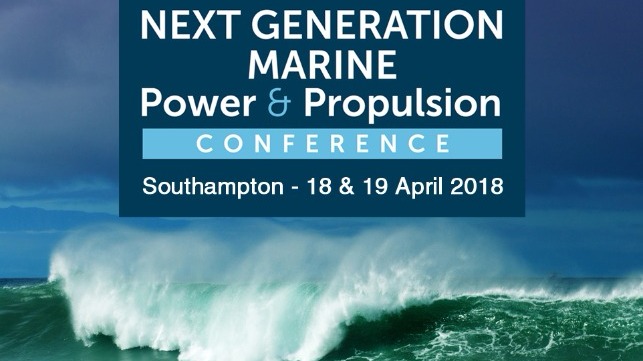 The NEXT GENERATION Marine Power & Propulsion Conference is being held at the Grand Harbour, Southampton on April 18 and 19, 2018. All sectors are invited to participate in this unique event that focuses on viable energy solutions for vessels of all sizes. Although initial focus was for sub IMO / sub 24 meter vessels, new power and propulsion technology is proving to be scalable this knowledge is becoming increasingly relevant to vessels of all sizes and categories.
Conference organizer, John Haynes, said, 'It is clear that emerging technologies including the use of electric drives linked to lithium-ion batteries, along with the arrival of fuel cells and autonomous systems, are accelerating major changes for marine operations. The 2018 program builds on our experience from four previous NEXT GEN power events and working with literally hundreds of industry experts globally.'
Armed with the latest knowledge from around the world this international group will identify the viability of utilizing innovative power systems. For commercial, professional and military organizations the unique knowledge gained from presentations and networking sessions will help to shape long term decisions that lead to improvements for in-service systems and procurement of next generation vessels.
Attendees include commercial, professional and military end-user organisations, along with ship & boat operators, builders, engine manufacturers, mechanical & electrical engineers, naval architects and legislators. Presentations will include the latest power systems suitable for all vessels.
Conference topics look at improving diesel engine efficiency and increasing performance across the powertrain to give fuel savings and reduce emissions. 'Here & Now Technology' looks at how industry is adopting viable solutions today. 'Next Generation Systems' are within a few years of commercial release. Innovative young designers are pushing the boundaries forward and creating a realm of new possibilities.
Hybrid systems are now commercially available and operating successfully around the world. Fuel cells bring crossover technologies from automotive. The maritime sector can also learn from how aviation, space and sub-sea power are managing these issues. As autonomous vessels move from concept to in-service they will require low maintenance power and propulsion systems. CFD modelling and testing is leading to improved hulls and propulsion systems.
Haynes, added, 'We know that having the right people on board is essential and there is no substitute for meeting the experts face to face. Our objective is to bring together a dynamic marine industry group and highlight viable innovation. This is not just green energy for the sake of it as presentations will show how fuel can be saved, maintenance costs reduced and engine life extended.'
There is a discount rate for members of British Marine, RINA, SSA, UKMPA, UKHMA, YBDSA.
Supporters include Southampton Marine & Maritime Institute (SMMI), University of Southampton.
NEXT GEN Event Manager is Julie Arthur +44 (0)7449 000228 info@hybridmarine-power.com
NEXT GEN Event information www.hybridmarine-power.com
The products and services herein described in this press release are not endorsed by The Maritime Executive.