IAMPE Presents Historical Industry Partner & Academic Partner at SUNY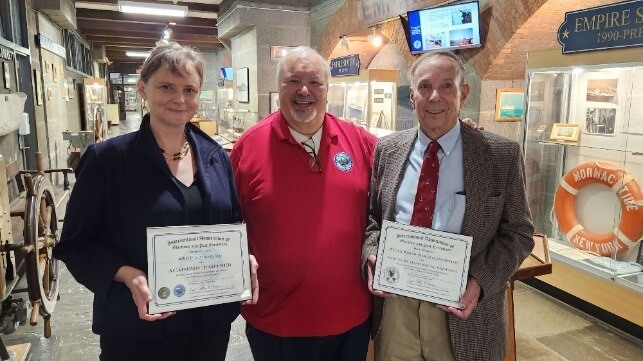 Capt. Jeffrey Monroe, MM, AMPE, of the International Association of Maritime and Port Executives (IAMPE) presented SUNY Maritime and the Maritime Industry Museum with Academic Partner and Industry Historical Partner certificates this past Sunday, May 7. SUNY Maritime is one of six Academic Partners of the IAMPE, including Maine Maritime Academy, Massachusetts Maritime Academy, Texas Southern, University of Memphis, and the Australian Maritime College, all of which contribute to the advancement of maritime and port education.

The Maritime Industry Museum, housed in historic Fort Schuyler at SUNY, is recognized for their important work in preserving crucial features of our maritime past and promoting awareness of that history.

The IAMPE is proud to have 30 Education partners including the Connecticut Port Authority; Port Authority of New York and New Jersey; Georgia Ports Authority; Port of Alaska; Bruce Oakley, Inc.;Maine Port Authority; Little Rock Port Authority ; Port Milwaukee; Port of Vicksburg; Port of South Louisiana; Port of Morgan City (LA); America's Central Port; the United States Coast Guard; the US Environmental Protection Agency; Port Tampa Bay; Jacksonville Port Authority; South Carolina Ports Authority; the Transportation General Authority of Saudi Arabia; Maher Terminals; The Port of Virginia; The Mississippi State Port Authority; New Hampshire Port Authority; the World Trade Center New Orleans; Ports Association of Louisiana (PAL); Kean Miller; The All Hazards Training Center at The University of Findlay; Parker Towing, Port of Decatur; A. Ayala Colón Sucrs Inc.; the Ponce Port Authority; and the British Virgin Islands Port Authority.

The IAMPE is a non-profit industry association that provides professional development for port/ terminal maritime managers and executives, as well as certification for operational personnel worldwide. Programs are reviewed and approved for certification by the IAMPE's Board of Advisors, comprised of 20 industry professionals. The Association offers professional and accredited programs in Coastal and Inland Port Management and Executive Management, as well as certification programs for Marine Terminal Operator and IMDG/Hazardous Awareness. The Association has over 2,600 alumni worldwide and is the only industry association offering professional certification to port managers worldwide.
The products and services herein described in this press release are not endorsed by The Maritime Executive.