Harvey Gulf Expands Fleet and Signs Long Term Contracts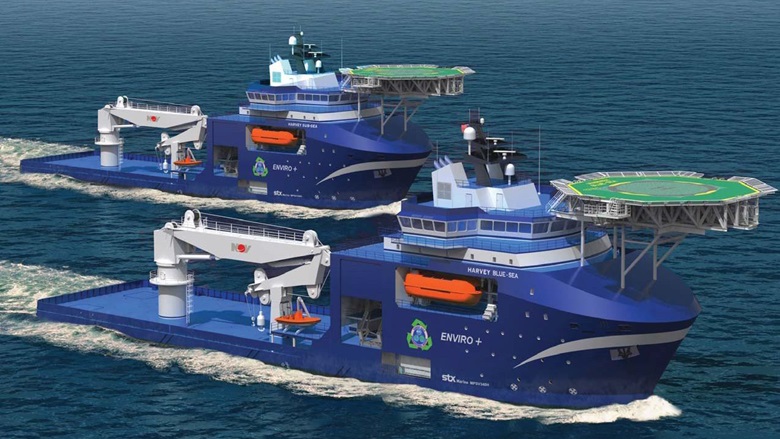 Harvey Gulf International Marine At a time when other vessel operators are stacking vessels and reducing fleet size, Harvey Gulf International Marine continues to set itself apart by signing four non-cancelable, long term contracts for stacked vessels and taking delivery of two new vessels, as well as redelivery of vessel reconfigured for subsea services.
Harvey Gulf announced the signing of long term contracts for the MPSV Harvey Intervention, 175' FSV Harvey Hustler, 180' FSV Harvey Runner and 220' FSV Harvey Express. These charters follow Harvey Gulf's recent agreement with Delta Subsea to outfit the previously stacked M/V Harvey Steeler to provide ROV and survey services.
The Harvey Intervention was redelivered in April, 2017 with increased accommodations, totaling 75 persons and a new NOV 165 MT AHC ultra deep-water knuckle boom crane. This crane gives the Intervention 180FT OF HOOK HEIGHT, more than any other US or foreign flagged MPSV crane vessel of its size, and capability of lowering sub-sea equipment to 3,600 meters.
Last week, Harvey Gulf took delivery of the 310' OSV Harvey Freedom, its fourth LNG OSV, which immediately joined its sister vessels and began a five year charter signed with Shell Oil in May of 2016. The next day, Harvey took delivery of the 340' class MPSV Harvey Sub-Sea. The Harvey Sub-Sea extends the boundaries for her class of vessels. She has a NOV 250MT AHC Knuckle Boom Crane with 4000 meters of wire, all of which are stored below deck, increasing the working deck load parameters. The Sub-Sea sleeps 150 persons in 87 one and two man rooms with an amazing client suite. The moon-pool is 24' X 24'with strengthening around the perimeter, enabling lowering equipment to be fitted in the area. The vessel is fitted with a 1" thick steel deck with a rating of 10mT per square meter and coffer dams below that allow for efficient welding and cargo securing cargo. This vessel truly demonstrates Jones Act vessels are here and ready for service.
Harvey Gulf CEO Shane Guidry commented, "We are very thankful during this downturn that our clients still demand safety, operational excellence, and the newest technology, all of which only Harvey Gulf can deliver. We've worked 1363 days without a recordable incident and met our goal zero for the last 3.75 years. We have also achieved a 99.2 percent uptime utilization on contract, limiting mechanical downtime to .08 percent. No other company in our industry performs like we do at Harvey. My executive team and I are involved in every aspect of our business, day and night, and the numbers show it. We produce more EBDITA than all of our publically traded peer group combined. And we've done this quarter over quarter, with our SG&A approximately 70 percent less than the average of our publically traded peer group, enabling us to deliver the best service at the right price.
The products and services herein described in this press release are not endorsed by The Maritime Executive.