GT Green Technologies Gets Start-up Award at Maritime UK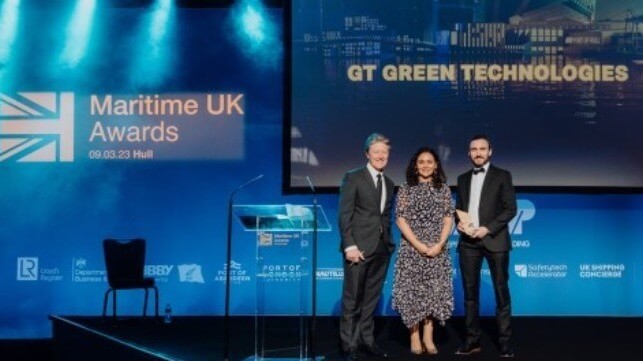 GT Green Technologies – developer of a unique energy-saving shipping solution utilizing wind power – is pleased to announce their recent selection as Start-up of the Year at the prestigious Maritime UK Awards. The ceremony was hosted by Maritime UK at the Hilton Double Tree in Hull and opened by HRH The Princess Royal. Over 400 maritime business personnel gathered to celebrate the best of the UK's maritime sector.
During the ceremony, fourteen awards were given, celebrating organizations and individuals from across the sector spectrum, worth over £116bn to the UK economy and supporting over 1 million jobs. The Safetytech Accelerator Start-up of the Year award recognizes organizations driving innovation and sustainable practices, which are critical goals of Maritime 2050.
GT Green Technologies are developing a novel wind propulsion system named AirWing™, capable of generating significant fuel savings, reducing emissions and increasing the overall efficiency of vessels.
AirWing™ is adaptable to various vessel types and can be retrofitted to existing ships. Using novel air-flow technology, the GT Green Wingsail provides unprecedented thrust for its size while remaining compact and stowable.
George Thompson, CEO of GT Green Technologies, commented on the award, "We are honored to receive the Start-up of the Year award at the Maritime UK Awards. Our AirWing wind propulsion technology is a game-changing offering for the maritime industry. This award is a testament to the hard work and dedication of the GT Green Technologies team and all of the support we have received from our partners."
"This latest recognition highlights the company's commitment to innovation, sustainability, and efficiency. As the sector evolves, companies like GT Green Technologies will play a vital role in shaping its future, driving progress toward a more sustainable and efficient shipping industry."
For more information about GT Green Technologies, visit their website, gtgreentechnologies.com. The company also maintains a presence on social media, including LinkedIn.
The products and services herein described in this press release are not endorsed by The Maritime Executive.