Green Corridor Simulation Fleet Strategy ABS Southeast Asia Meeting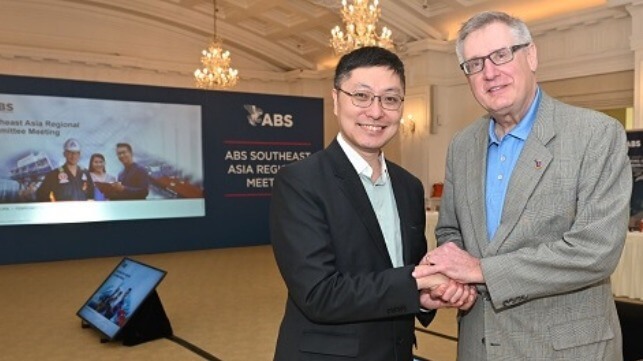 Green Corridor Simulation, Cutting Edge Decarbonization Technologies, and Future Fleet Strategy Lead the Discussion at the ABS Southeast Asia Regional Committee
MPA CEO Joins Industry Leaders to Discuss Decarbonization and New ABS Sustainability Global Lead Introduced
Preparing the region's marine and offshore industries to prosper through the clean energy transition was the focus at the ABS Southeast Asia Regional Committee Meeting.
The Chief Executive of the Maritime and Port Authority (MPA) of Singapore joined Asia's shipping industry leaders to discuss decarbonization strategies, cutting-edge technologies and the evolving regulatory landscape.
ABS Chairman, President, and CEO Christopher J. Wiernicki announced the appointment of Panos Koutsourakis to Vice President, Global Sustainability, who is based in Singapore, to the committee.
Teo Eng Dih, Chief Executive of the MPA, delivered an update on the MPA's decarbonization and green transition programs.
"Our industry stands on the cusp of a decade or more of disruptive change. As we look to navigate the clean energy transition, the scale of the challenge before us is daunting. But, as we heard from this influential group of industry leaders, change is also an opportunity, and by working together, we can deliver a cleaner, more sustainable industry. As a leader in Singapore's marine and offshore industries, ABS is supporting our clients and members in the region with advanced solutions in technology, strategy, and compliance," said Wiernicki.
"There is an urgent need to accelerate the pace of decarbonization to meet consumer and investor demand and to enhance the IMO 2050 target for greenhouse gas reduction. To meet these challenges, strong partnerships among the public sector, the private sector, and the research community can help reduce the energy demand of vessels, help ship owners adopt energy-efficiency measures and renewables, and test the efficacy of new maritime fuels such as biofuels, ammonia and hydrogen. MPA will continue to work closely with our partners, including classification societies such as ABS, to address the challenges and seize new opportunities to shape the future of shipping," said Eng Dih.
ABS is the leading Class in Singapore and the South Pacific with a leading order book position, and 121 vessels built to ABS Class in the region in 2022. ABS' Singapore office is home to one of the five global ABS Sustainability Centers, supporting marine and offshore clients with comprehensive decarbonization and sustainability solutions. It is also the home of the ABS Global Simulation Center which provides clients with a virtual representation of an asset that ABS engineers use to analyze, configure and test safely and cost-effectively.
The head of the global simulation center, Dr. Gu Hai, ABS Vice President, shared a demonstration with the committee members of the new ABS green corridor simulation tool, allowing stakeholders to accurately evaluate potential green corridors' performance.
The committee also heard about ABS' industry-leading safety performance, the latest regulatory developments, and market trends."Maritime is an impressive industry, doing amazing things every day from keeping global trade flowing to exploring new technologies that improve efficiency, and HSE and advance the energy transition. I am pleased to be associated with the committee, comprised of experienced leaders and, together with ABS, putting our skills together to keep operations safe and shape the services of the future," said Captain Rajalingam Subramaniam, President and Group CEO of MISC Berhad, and Chairman of the ABS Southeast Asia Regional Committee.
The Committee meetings are a forum for ABS members, including owners, operators, charterers, and industry representatives from flag Administrations, owner associations, and the shipbuilding and insurance sectors, to come together with ABS leaders and discuss industry issues and developments. These forums are an important part of an ongoing dialogue with the industry to address technical, operational and regulatory challenges.
About ABS
ABS, a leading global provider of classification and technical advisory services to the marine and offshore industries, is committed to setting standards for safety and excellence in design and construction. Focused on safe and practical application of advanced technologies and digital solutions, ABS works with industry and clients to develop accurate and cost-effective compliance, optimized performance and operational efficiency for marine and offshore assets.
The products and services herein described in this press release are not endorsed by The Maritime Executive.