Golden Gate Provides First Californian Ferry Reference for Ecospeed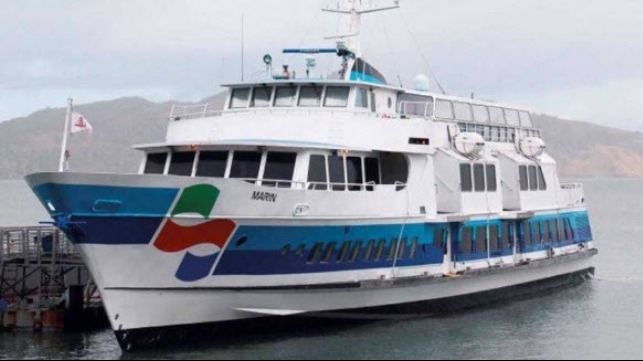 The Ecospeed coating system has been applied to Golden Gate Ferry's M.S. Marin. This aluminum-hulled 750-passenger capacity Spaulding class ferry is owned and operated by the Golden Gate Bridge, Highway and Transportation District. Golden Gate Ferry chose to apply Ecospeed based on its environmental safety and durability.
Manuel Hof, Subsea Industries' Production Executive, said: "The application marks the first Ecospeed coating to a ferry operating in California. We have completed the application to the Marin's hull and the operator will now evaluate performance."
In October last year, biofouling management regulations entered into force requiring vessels entering the ports of California to have minimum biofouling on the underwater portion of their hulls and niche areas.
"While these regulations do not specifically apply to the Golden Gate vessel they will have a significant impact on other vessels trading in Californian waters," said Hof. "Ships whose records show that the coating on their hull is still within the specified lifetime will be presumed to comply. A ship whose coating is beyond its recommended life span, or one that is not using an antifouling coating at all, will be inspected and must not exceed five percent biofouling on the hull and not more than 15 percent in niche areas."
In-house developed underwater cleaning equipment
Hof explained that Subsea Industries has also supplied the ferry company with its hull cleaning equipment, designed to allow the rapid removal of all types of marine fouling. "All our systems are carefully designed with operational safety as a prime consideration. A range of systems is available for various applications. All our cleaning units are sold separately or supplied with a
complete support system including umbilical, tools and hydraulic power unit.
"The operator's intention is to outsource hull cleaning to a diving company for regular maintenance. Because the coating has just been applied, the first cleaning will most probably be during the upcoming summer period," said Hof.
The Ecospeed application was carried out at Bay Ship & Yacht Co, a QP-1 certified yard based in Alameda, outside of San Francisco. The total surface area coated was 475m2.
Application went very smoothly, taking just one day. The first coat was applied in the morning, with the second coat applied in the afternoon, as Bay Ship & Yacht's Senior Project Manager David Elliott explained.
"This being BSY's first application of Ecospeed, our priority was to familiarize ourselves with the coating and then confirm how much product would be required for the project; it was vital to the project's success that the correct quantities arrived ahead of the scheduled application date.
"An application sequence was agreed with the applicators to ensure a synchronized approach to application. Each applicator knew where to start, the direction to go, and where to finish, all in advance of application.
Ecospeed was applied at a 25mil wet film thickness per layer to achieve a 20mil dry film thickness with the overall minimum dry film thickness amounting to 40mil. Due to the amount of planning and preparation that went into this application, BSY applied the Ecospeed with zero downtime and, due to the quick recoat window, was able to apply two coats of alternating colors in one shift. All aspects of the application were overseen by a talented team who not only knew the importance of good technique but the necessity of planning, knowing the product, and planning execution.
Chris Ward, the Technical Manager of BSY's Paint Department, added: "In the maritime industry, a painter's job is vessel protection via proper coating application; BSY has no doubt that its application of Ecospeed will serve the Marin well for years to come."
The first-ever Ecospeed application of a Subsea Industries' coating in the State of California was in 2012 when Ecolock was applied to the floaters of the semi-submersible Odyssey. The rig, stationed in the Port of Long beach, is used for launching satellites into space.
While California is one of the first to implement hull biofouling rules, US-based vessel operators expect others States to follow suit, particularly New York.
"We have recently applied Ecospeed to the hulls of five Staten Island ferries and believe more operators will consider the technology as the regulations take hold," added Hof.
The products and services herein described in this press release are not endorsed by The Maritime Executive.