Geps Techno Names New Power Platform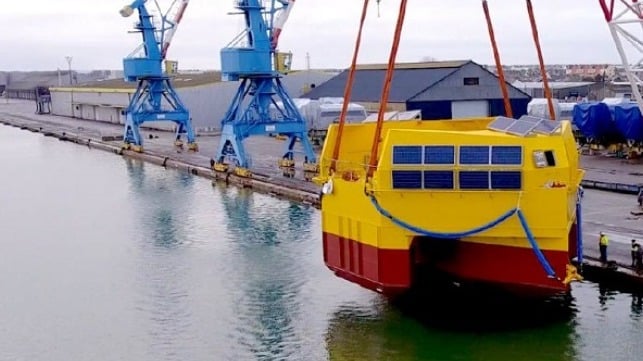 Last Tuesday, Geps Techno named its new power platform WAVEGEM®.
Designed and built in Saint-Nazaire (France), the platform is a part of the R&D project IHES (Integrated Harvesting Energy System) which includes partners as Blue Solutions by Bolloré, Centrale Nantes, Chantiers de l'Atlantique, ICAM, Ifremer, SNEF et financed by Bpifrance PIAVE and INTERREG FORESEA. This "big baby" of 200 tonnes is equipped with 150 KW power capacity.
Measuring 21 meters long by 14 meters wide and seven meters high, the platform will produce energy thanks to waves and the sun. It will be tested during 18 months on the site of SEM-REV operated by Central Nantes and located off the coast of "Le Croisic" in France. With its two young godmothers, WAVEGEM® goal is to unleash the clean power of the sea for future generations.
Geps Techno developing unique technology to harvest energy at sea
The system to convert wave energy into electricity relies on smooth sea water flow through a turbine. The constant water flow in different corridors enables the platform to deliver constant power. To increase the production of electricity, this unit is equipped with 70 square meters of solar panels.
WAVEGEM® is a simple and reliable system, simply moored with anchors and ready to deliver energy to multiple applications on site.
This new step in Geps Techno's history adds another brick to the original project MLINER: combining four sources of energy on the same unit: waves, solar, wind and current.
WAVEGEM® – a new commercial power platform for every energy at sea
After the success of the commercial self-powered buoy for low power market (mainly to power monitoring sensors), Geps Techno is now accessing a new power range from 150kW to 1MW. The new commercial product line WAVEGEM® aims to be an off-grid power solution to all actors at sea including offshore oil & gas, aquaculture, remote places… and also wind farms.
GSIRE® - A Green Power Producing Ship Stabilizer
Alternatively to static use, Geps Techno supplies vessel newbuildings and refits with its GSIRE® based on the same turbine principle as WAVEGEM®. The GSIRE® is an anti-roll stabilization system with integrated turbines/generators which recover stabilization power from the water load in motion. Hence, in addition to stabilizing the ship, the GSIRE® offers an additional source of electric power without any CO2 emission. With the GSIRE®, GEPS Techno can install power up to 250kW capacity with a return on investment estimated at five to seven years.
Created by Jean-Luc LONGEROCHE and Philippe MAGALDI in 2011, GEPS Techno is involved in marine renewable energy development through "energy autonomy at sea, off-grid."
As a specialist of stabilization and renewable energies, GEPS Techno develops and commercializes innovative solutions (marine platform and anti-roll tank) to harvest energy at sea.
The products and services herein described in this press release are not endorsed by The Maritime Executive.