Eastern Delivers Four ABS Class Inland River Towboats to IWL River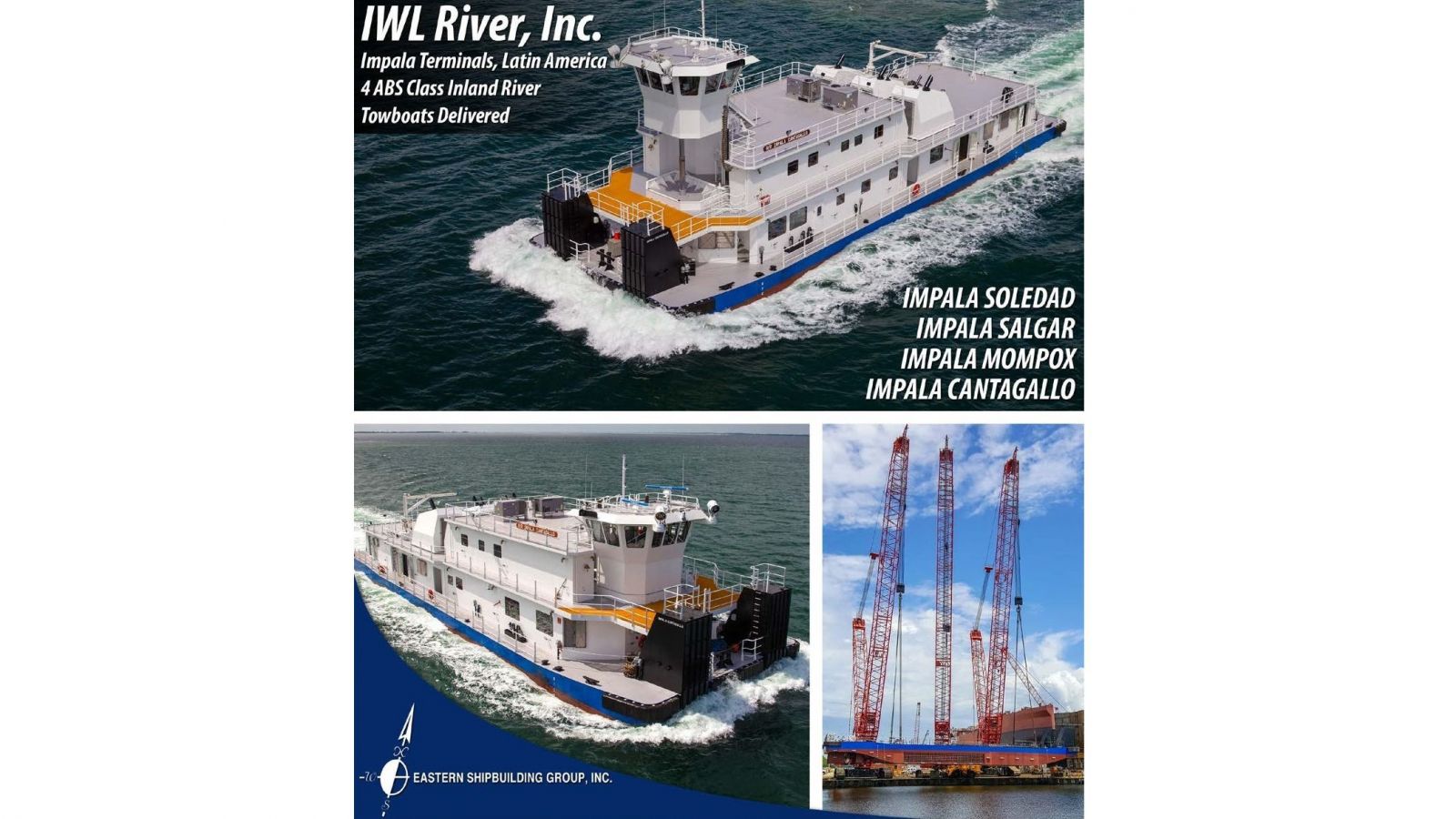 Eastern Shipbuilding Group, Inc. is pleased to announce the delivery of four (4) ABS Class Inland River Towboats IWL River, Inc. The IMPALA SOLEDAD (HULL #243), IMPALA SALGAR (HULL #244), IMPALA MOMPOX (HULL #245), and the IMPALA CANTAGALLO (HULL #246). This series of CT Marine designed 134 ft. ABS Classed Inland River Service Towboats are Triple Screw with Retractable Pilothouses. All four towboats were constructed, outfitted and delivered at Eastern's Allanton Facility.
The Inland River Triple Screw Retractable Towboat series features the following construction dates and design characteristics:
ESG Hull #243-246: Series of 4 Vessels
Launch Date Delivery Date
IMPALA SOLEDAD (243): 06/10/2016 11/11/2016
IMPALA SALGAR (244): 08/02/2016 12/29/2016
IMPALA MOMPOX (245): 10/24/2016 03/24/2017
IMPALA CANTAGALLO (246): 12/14/2016 05/24/2017
Length (LOA): 134'-0"
Breadth: 42'-0"
Depth: 9'-0"
Minimal Operational Draft: 6'-0"
Pilothouse Eyelevel (above waterline): 37'-6" Pilothouse Eyelevel (above waterline) retracted: 25'-4" Minimum Bridge Clearance @ 6' Draft: 30' -0"
Flag: Republic of Columbia
Classification: ABS A1, Towing Vessel, River Service, AMS, ABCU
The products and services herein described in this press release are not endorsed by The Maritime Executive.