Date Set for Worldwide Ferry Safety Association Conference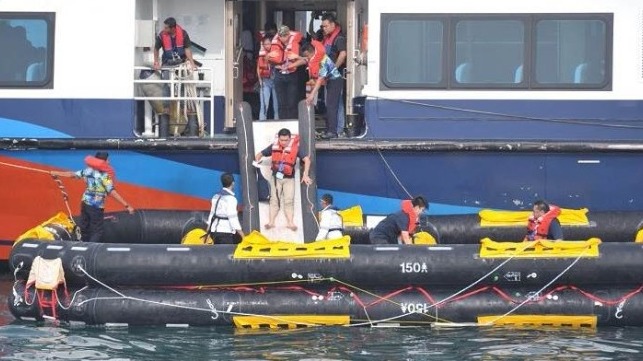 The 4th Annual Conference of the Worldwide Ferry Safety Association (WFSA) will take place in lower Manhattan, March 21-23, 2018.
The agenda is as follows:
• March 21 Exhibits (one day)
• March 22 Conference sessions
• March 23 Electric ferries workshop; waterborne tours
The formal conference, on March 22, will include reports the results of an international survey on training, result of beta testing Google Glass Nav on Staten Island Ferry, and progress on making 3D printed ferry weather monitors. In response to issues of recent interest, there will be discussions regarding aluminum and composite materials used in ferry construction, maintenance of floating landings, and the application of data-mining for electric ferries. In addition, a full range of applications of AIS data will be presented, along with a discussion of the further expansion of AIS to meet ferry safety needs.
On March 23, there will be a workshop panel of operators, designers, builders and overseers of electric spectrum ferries (diesel hybrid, pure electric, and hydrogen fuel cell). This session has been in added in response to the expansion of interest in electric ferries in NYC and around the world. The day will also include technical tours on metropolitan NY ferries, with discussions of relevant issues such as mapping the bottom of the harbor near the channels.
Now in its 4th year, the conference has grown in scope and number of attendees. You can see the agenda at: https://ferrysafetyconference.squarespace.com/program/
To avoid disappointment of being closed out we are encouraging early registration- you may register at: http://ferrysafetyconference.squarespace.com/
A perennial highlight of the conference is the award to a team of naval architectural students meeting criteria that were announced at the beginning of the Fall 2017 school term. This year the students were asked to design a passenger ferry that could traverse the highly congested Singapore Strait and access terminals in Indonesia, Malaysia and Singapore and carry 300 passengers plus crew. The competition is supported by a grant from an anonymous family foundation and by sponsors of the Ferry Safety and Technology Conference to which the awardees are invited to speak. Travel and registration for students is supported by the TK Foundation.
Dr. Roberta Weisbrod, Executive Director of the WFSA, emphasized that: "The Singapore Maritime and Port Authority's Kevin Wong and the Safety Inspectorate team devised the specifications for the Singapore Strait ferry and have been powerful and effective leaders for ferry safety, collaborating with other interested parties in the region."
An announcement regarding this year's award recipients will be forthcoming in the next few weeks. Stay tuned for news about the winners, with pictures of the entries.
The products and services herein described in this press release are not endorsed by The Maritime Executive.