Danfoss Shows Cross-Segment Strength at SMM 2018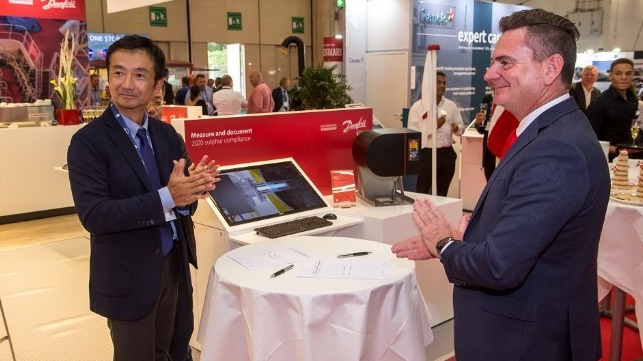 The Danfoss booth at SMM 2018 in Hamburg – the world's largest maritime fair – comprised a strong, One Danfoss focus with marine industry product solutions Danfoss Power Solutions, Drives, IXA, IA and Semco.
The bi-annual event was held September 8-11 in Hamburg, attracting more than 50,000 industry visitors and nearly 2,300 exhibitors.
To capture the feeling and power of One Danfoss and make Danfoss Marine relevant to the industry, the booth was categorized in industry-relevant themes with related solutions, serving the various stakeholders in the industry. The themes were chosen to help interested visitors navigate around the Danfoss solutions and see the connections between the various solutions.
The booth featured the main drivers of the business in terms of health, safety, environment, operations and maintenance. The key themes related to these comprised: "Sulphur 2020," "Fire Safety," "Energy Efficiency," "Maintenance" and "Certifications" – under which Danfoss provides a range of solutions.
The Danfoss Marine portfolio presented at SMM displayed how to respond to these with a range of solutions and displayed how these solutions could be used together for optimized processes. In other words, Danfoss presented a complete marine portfolio to be used everywhere on the ship.
"SMM 2018 was another truly outstanding opportunity for us to showcase our strong One Danfoss, cross-segment focus for marine industry solutions," said Steve Robinson, Director, Business Development Marine, Oil & Gas, DPS. "It was a real eye-opening experience for many attendees, who often commented, 'Wow – I didn't realize that you could offer that' with respective to our vast Danfoss Marine product portfolios and those sentiments were echoed by customers, distributors and competition alike."
Navigating an impressive booth
Walking through the booth, visitors saw the close connection between the various Danfoss solutions and saw how Danfoss provides solutions for OEMs, ship owners and operators throughout the entire vessel. For example, starting at "Sulphur 2020", a range of sensor solutions were presented by Industrial Automation and IXA, addressing the looming 2020 Sulphur regulation. The IXA marine emission sensor provides a means of regulation compliance documentation and combined with a Drives' inverter, we're able to control the scrubber and emissions to a given setpoint.
Hybrid propulsion solutions at "Energy Efficiency" demonstrated how we can save up to 30% in fuel costs by enabling the vessel's main engine to be operated at optimal efficiency, capturing excess power from the generator in batteries, which is automatically released back into the grid when needed.
"Energy Efficiency" also represented DPS' solutions for propulsion and maneuverability with the ability to offer different types of systems: hydraulic, electric, or a hybrid combination – offering several options for industry stakeholders.
"Maintenance" presented solutions that would help relevant stakeholders have availability at sea, ensuring that things continue to operate out on the water. DPS offers Internet of Thins (IoT) solutions that can perform remote diagnostics at sea, gathering data in the Cloud and presenting it in user-friendly dashboards on the internet.
"Fire Safety" presented a range of extinguishing solutions, and ensuring safety at sea, bringing together our High Pressure Pump technology with Semco's water-efficient mist solution that is suitable for all areas of the ship.
"Certifications" are increasingly relevant for suppliers in the industry, as buyers need to be sure that products are fit for their purpose and of good quality and following all standards. This was a theme at the Danfoss booth, as well.
The products and services herein described in this press release are not endorsed by The Maritime Executive.