Carrier HMS Prince of Wales Will be "SOLASAFE"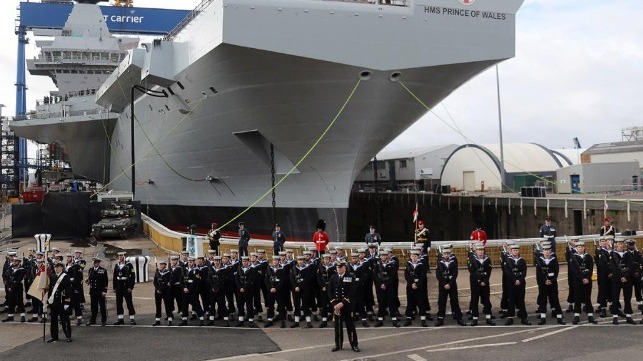 Following in the footsteps of a number of eminent Tyneside based marine equipment and services suppliers, South Shields-based Solar Solve Marine recently dispatched two consignments of its brand leading SOLASAFE anti-glare, heat reflecting roller sunscreens to Rosyth Naval Dockyard. The Type Approved roller sunscreens reject solar glare, infra red heat and ultra violet light and will be installed at the Navigation Bridge windows and the Flying Control room (FLYCO) windows of the UK MOD's second Queen Elizabeth-class aircraft carrier HMS PRINCE OF WALES.
The SOLASAFE screens supplied are mains powered, remote controlled and the hardware has been finished to a high quality specification that befits the two biggest and most powerful surface warships ever constructed for the Royal Navy.
HMS PRINCE OF WALES, was officially named in a ceremony at Rosyth Naval Dockyard on 8 September 2017. Prince Charles, who shares a title with the £3bn vessel, watched as his wife Camilla, the Duchess of Rothesay, carried out the duty.
The vessel is externally complete but it will take 18 months to fit its internal systems. It will be 2019 before sea trials begin but all of Solar Solve Marine's Type Approved SOLASAFE roller solar sunscreens will be installed at the Navigation Bridge windows and the Flying Control room windows during May of 2018.
John Lightfoot, Solar Solve's chairman, commented, "At 920 ft. in length and with a displacement of 70,000 tons the main structure of these vessels has been built to accommodate future design changes and expansions over time and they are expected to last for 50 years."
"Winning this order is not just about coping with last minute design changes and very tight delivery schedules. It is also about effectiveness and reliability of product, together with life expectancy between major refits which is what we thrive on. Everyone at Solar Solve is very proud to be a part of this amazing British project that will represent a step change in the Royal Navy's capability, enabling the delivery of increased strategic effect and influence around the world.
John continues, "We did expect to win this order as SOLASAFE screens have already been supplied, installed and are currently in effective use on HMS QUEEN ELIZABETH, the first of the two aircraft carriers to be built. Feedback from that ship is very positive and the screens are working well."
Full details of Solar Solve Marine and its product range are available from the company website at www.solasolv.com or email info@solasolv.com or by telephone on +44 191 454 8595.
The products and services herein described in this press release are not endorsed by The Maritime Executive.