Beating the Challenges of Shipboard Welding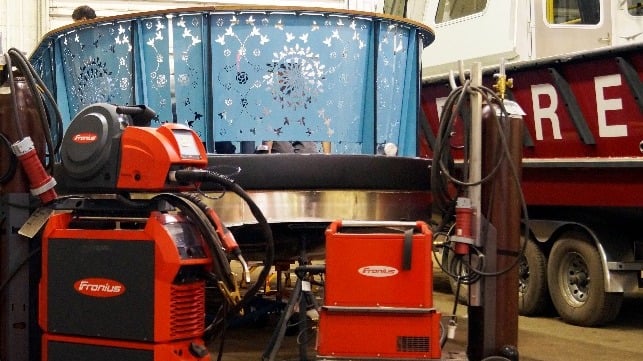 [By Rhonda Zatezalo]
Out on the water, broken parts and structural damage can endanger lives and cost thousands of dollars in delays. Rough weather, heavy loads and strong waves make timely repairs a necessity. With a service history spanning 125 years, Fraser Shipyard understands these challenges. In their drive to provide quality service and value to their customers, they've found solutions for shipboard welding that are both safer and faster than standard welding methods.
On Lake Superior in Superior, Wisconsin, Fraser Shipyard and its sister companies, Lake Assault Boats and Northern Engineering (NECO), provide repair and new builds to the Great Lakes maritime industry. Their customers include large lake freighters, police and fire departments, the U.S. Coast Guard, and many other workboats cruising the country's inland lakes. Fraser and Northern both offer on-call service 24 hours a day, every day of the year. During the busy season repairs are often done underway to keep shipments on schedule. This is especially true of the lake freighters whose structural and mechanical components undergo fatigue and wear due to wave action and the loads these vessels carry. When called, the teams from Fraser Shipyards or Northern Engineering will dispatch crews to repair components in place, install newly engineered parts or deliver and weld new steel into place without the ship changing course. Their crews require reliable welding machines that perform in the harshest of weather, year round.
For decades, the onboard welding set-up has proven difficult and time consuming due to large machines, lengthy cables, gas tanks, and required generators. Moving between decks while trailing long cables was cumbersome and created trip hazards for the crew. Large machines crowded walkways or couldn't fit where needed. Looking for a better way, Fraser discovered a lightweight, portable welder that was battery powered, yet strong enough to weld quality seams on thick steel frames. Their shipboard welder of choice is the Fronius AccuPocket. It welds both stick and TIG and is smaller than most carry-on luggage. A single battery charge is enough for most jobs, and the battery is rechargeable on a standard 110 outlet.
With no cables to run or generator to move, and only a small bottle of gas necessary for the TIG function, set up time has been reduced by 75% in some cases. The small size also makes getting through tight corridors and between decks easy. But don't let that size fool you; the AccuPocket is a feature rich welder, complete with the user-friendly design, durability, and innovative technology that Fronius users expect—ideal for the extreme conditions of shipboard welding.
Keeping a fleet of aging lakers afloat and running on schedule is no easy task. Many of the ships have been in continuous service for over fifty years and replacement parts aren't readily available. Fulfilling a need in the maritime industry, Northern Engineering has been a leader in engineering, on-site and on-shore machining services since 1916. During winter, their main challenge is the icy weather, but during the main season, when delays can cost $10,000 an hour, their biggest challenge is time. As Mike Ossanna, lead foreman for NECO, says, "It's priceless to be able to grab it [the AccuPocket] like a suitcase and go out to the site and weld."
Not only does Northern work hand in hand with Fraser Shipyard and the marine industry, but they offer on-call mechanical repair and renewal services to the agricultural, mining and energy industries, as well as the U.S. Coast Guard and U.S. Geological Survey. With such a large variety of mechanical repairs they need versatile solutions for welding. For on-site repairs, the portable welder is their first choice but they also use Fronius technology in the shop for both MIG and TIG welding.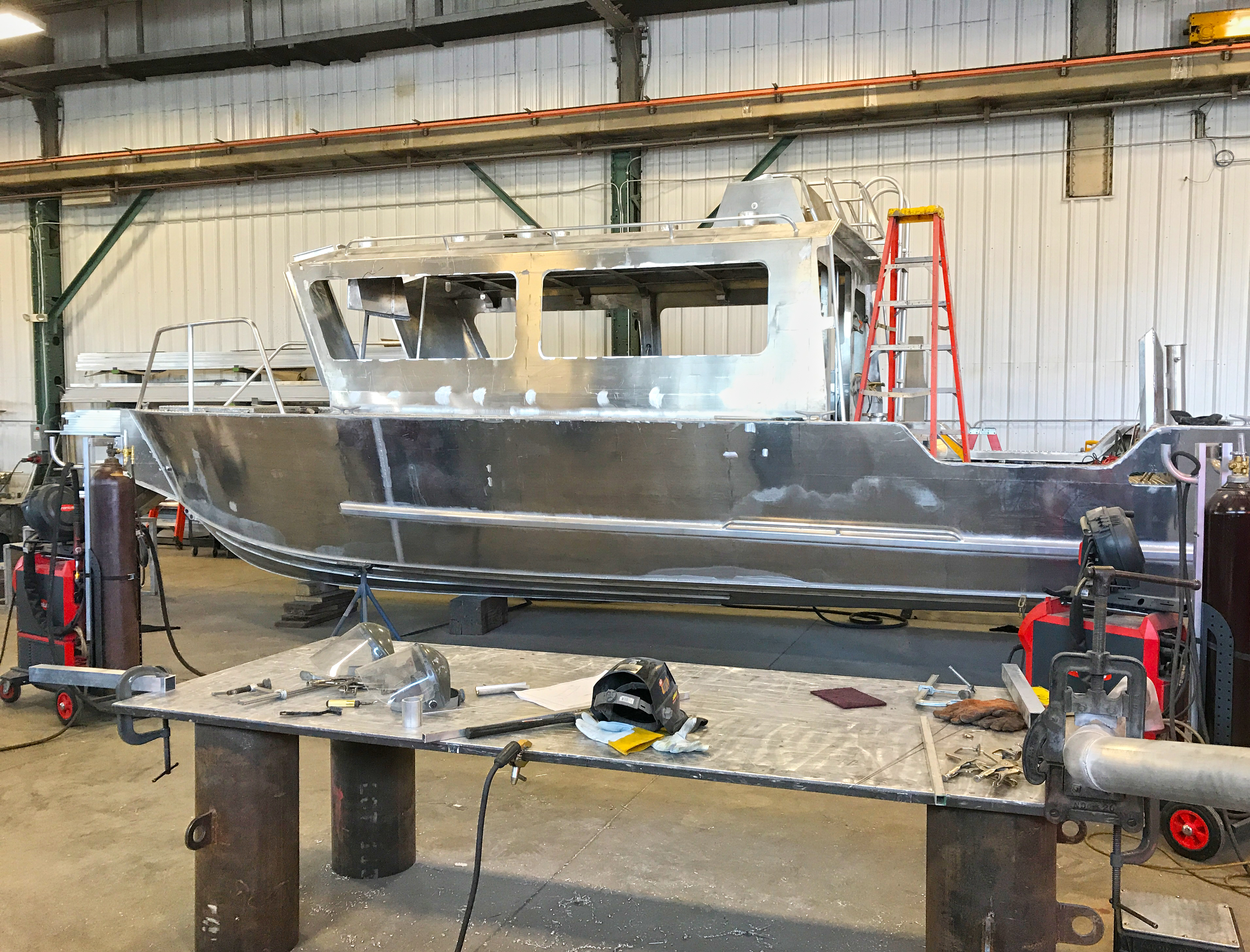 Image courtesy Fronius
Though the AccuPocket has made onboard repairs safer and easier, Fraser Industries also uses Fronius equipment in the workshop. Lake Assault Boats, the custom build arm of Fraser Industries, designs and builds vessels for military, police, and fire departments, and leisure boats for the tourism industry like San Antonio's River Walk district. Their welding challenges come from custom design rather than portability. The Fronius technology is an important asset in building mission-based vessels. Lake Assault uses the TPS/i, a touch-screen interface welder, to achieve the top-quality aluminum welding they require.
"One of the first challenges we have is creating a specialized design from ideas and wish lists of our customers," says Chad DuMars, vice-president of operations at Lake Assault Boats. "We've learned to listen well and ask the right questions to create a design that fits the customer's needs on a daily basis. For example, a fire boat we build today, won't be the same as the fire boat we build next month for another customer. The specific welding challenges we run into include the size of what we're welding, and the shape and positioning. It can be challenging to get in and lay down a good quality weld. Some boats are designed for speed, and others for hauling so each hull is a different shape. There are commonalities though. With the Fronius equipment we can program those jobs into memory and it provides a quality weld each time with minimal adjustments."
Though the Fraser Industries companies provide different services, each one is customer focused, with an emphasis on excellence, value and safety. These core values also extend to their staff. Since the Great Lakes maritime industry is seasonal, any of the companies may request their workers to assist on another company's job. This helps keep team members working year-round as much as possible. The companies are also able to move crews to meet tight deadlines, like the large workboat order they filled in November for the City of San Antonio. When talking about their employees and that deadline, DuMars had this to say, "When I look back at how good of a job our crew did, and I think of challenges, I can't think of anything but compliments to give our guys because they did such a good job on it."
The Fronius welders are ship- and user-friendly, and easy to learn. Familiar technology makes moving employees to different positions even easier. As one welder put it, "The machine almost self-corrects if my hand strays. I've been doing this a long time, and it seems to make me an even better welder."
The Fraser team believes the right tool provides the best value and safest working conditions. With more than a century of experience, they have found their shore and shipboard welding solutions in Fronius technology.
Rhonda Zazetalo is a freelance writer and graphic designer from Northwest Indiana. She has been writing articles for welding industry magazines since 2013.
The products and services herein described in this press release are not endorsed by The Maritime Executive.