Bakker Fixes Ferry's Bow Thruster Engine Within One Week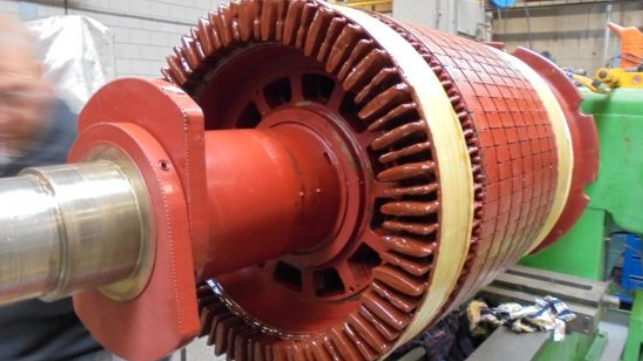 Sliedrecht based company Bakker Repair + Services has succeeded in repairing the electric bow thruster engine of a Stena Line ferry within a week after establishing the failure. The company worked 24/7 to get the job done within this short period of time.
Bakker was hired for the job by Danish electro-technical company Scanel International, which contacts the Dutch company frequently when specific repairs have to be completed quickly.

In this case, the bow thruster engine of the cruise ferry Stena Saga, that sails on the Frederikshavn-Oslo line between Denmark and Norway, had to be repaired. Although a ferry has several bow thruster engines for sailing and berthing in ports, the repair was urgent.

Scanel removed the engine from the ship and had it transported by road from Denmark to Sliedrecht. There, the 3.5-tonne electric engine was dismantled and inspected on Friday, March 8th. The thorough inspection showed that a complete overhaul was required. The rotor had to be repaired and the stator needed rewinding. On Friday afternoon, Bakker got the approval. After that, the company worked day and night to complete the overhaul before the tight deadline of one week. Friday, March 15th the engine was assembled, tested and sprayed externally. A day later, on Saturday, March 16th, the repaired engine could be transported back to Denmark, to be re-installed on Monday, March 18th.

"Such a job normally takes 2 to 2.5 weeks, but we didn't have that much time," says sales support coordinator Sander Peters of Bakker Repair + Services. "It is quite special that we were able to complete this in such a short time so that we could help out the company."

Besides Scanel, various companies choose Bakker Repair + Services for this type of urgent repairs. The rewinding of electric motors, transformers and generators is a specialty of Bakker. The company has its own rewinding shop with professional and computer-controlled equipment and has acquired a lot of knowledge and expertise in this area during the past years. Bakker can also provide 24/7 service if necessary. In the case of the bow thruster engine, buying a new motor would be more expensive and would take longer because the delivery time is a couple of months.
The products and services herein described in this press release are not endorsed by The Maritime Executive.