AEGIR-Marine?s New Propulsion Workshop DNV-GL Approved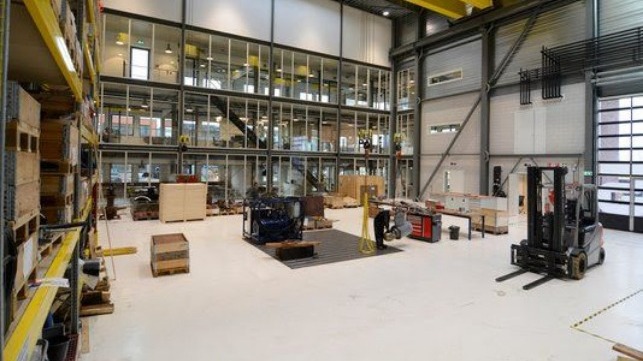 AEGIR-Marine has received an Approved Workshop statement from DNV-GL. AEGIR-Marine is the first brand-independent service provider in The Netherlands with an approved workshop for repair and maintenance of propulsion systems.
For brand-independent service providers who perform repair and maintenance work on maritime propulsion systems, approval of their workshop is completely new. AEGIR-Marine approached DNV-GL for the approval process, because this agency also supported the company in obtaining the ISO 9001 certification, the international standard for quality management systems. Workshop Approval includes the quality of maintenance on propulsion systems, workplace routing, a safe working environment, dealing with hazardous substances and risk management to ensure the quality and a high uptime of the equipment based on elements of ISO 9001, 14001 and 18001.
AEGIR-Marine joins the ranks of major players
With its new repair shop AEGIR-Marine joins the ranks of the major players in this field. The newly opened workshop allows the overhaul of ship components up to fifty tons. The height under the new crane is a whopping 12.5 meters. The new building is fifteen meters high in total. Additionally, AEGIR-Marine is able to perform spin tests at this new location. This means running and simulating propeller and thruster speeds in real time.
A reliable and accredited party
Marcel van der Hoff, Product Manager at AEGIR-Marine Propulsion Service: "As a brand-independent supplier and service provider this approval allows us to offer our customers and prospects a quality assurance. Many shipping companies and owners of ships already know us. This approval increases the freedom of choice of technical managers and owners of ships. The quality assurance, our 24x7 flexibility, customer focus, expertise and competitive prices make AEGIR-Marine a very reliable and accredited party to do business with."
Renowned Classification Agency
DNV GL is one of the three leading classification agencies for ships worldwide. Two other major agencies are Lloyd's Register and the American Bureau of Shipping (ABS). DNV GL classifies 5,100 ships: together some 101 million gross tons. This is sixteen percent of the worldwide maritime tonnage. DNV GL has been recognized by 130 maritime authorities. The Norwegian Veritas (DNV) merged with Germanischer Lloyd (GL) in 2012, after which the DNV GL Group was formed.
About AEGIR-Marine
AEGIR-Marine is a full service provider for stern tube seals and propulsion systems for the maritime industry. The company focuses on exceptional quality service for both ship owners and ship managers. AEGIR-Marine was established in 2000. Since then the company managed to become a major supplier of independent maritime services for all main maritime propulsion systems.
AEGIR-Marine's headquarters are located in Wijk bij Duurstede, the Netherlands. The company also has offices in Namibia, Singapore, China and the USA from where Service Engineers can be dispatched globally.
Besides its offices, AEGIR-Marine works with a network of professional agents. From Canada to Chile, from Indonesia to Sweden and from Greece to Japan. More information is available via www.aegirmarine.com.
The products and services herein described in this press release are not endorsed by The Maritime Executive.