ACR Electronics Announces the Release of New All-in-One Survival Kits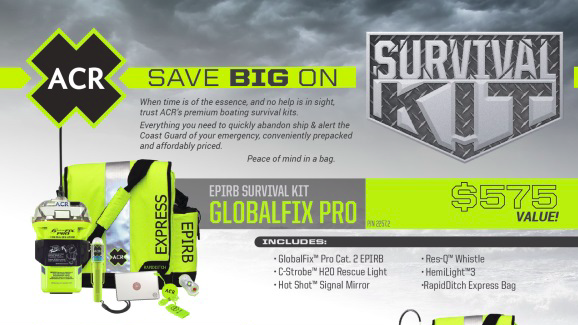 New at the Fort Lauderdale International Boat Show, leading safety and survival specialist ACR Electronics is making life easier and even safer for boat owners by offering two conveniently prepacked premium boating Survival Kits. Affordably priced and ideal for any new boat buyer at the show, the new kits include the essential products needed to quickly abandon ship and alert the Coast Guard of an emergency.
Boaters carrying one of the bags on-board will be equipped with an ACR Emergency Position-Indicating Radio Beacon (EPIRB) or Personal Locator Beacon (PLB) operating on the 406 MHz frequency. The beacons can be quickly and easily activated in an emergency to enable the Search and Rescue authorities to identify and locate a boater in distress. The kits also contain a variety of other products including an abandon ship bag, strobe lights, signal mirror and a whistle, to further help rescuers.
Mikele D'Arcangelo, Marketing Director for ACR Electronics, said: "Our customers can put their trust in the ACR Survival Kits when time is short and no help is in sight. We have developed these kits so that they can offer boaters peace of mind in a bag. When considering the safety of your family and crew, we want to emphasize the importance of investment in premium equipment, particularly a properly-registered 406 MHz beacon developed to save lives. As soon as you buy a boat, outfitting it with a safety kit above and beyond the minimum U.S.C.G. requirements, should be the utmost priority."
EPIRB Survival Kit with GlobalFix Pro has a retail value of approximately $575; the kit
includes:
• GlobalFix Pro Cat.2 EPIRB
• C-Strobe H20 Rescue Light
• Hot Shot Signal Mirror
• Res-Q Whistle
• HemiLight 3
• RapidDitch Express Bag
EPIRB Survival Kit with GlobalFix V4 has a retail value of approximately $850; the kit
includes:
• GlobalFix V4 Cat.2 EPIRB
• ResQLink+ Personal Locator Beacon
• Firefly PRO Waterbug
• Hot Shot Signal Mirror
• Res-Q Whistle
• HemiLight 3
• RapidDitch Express Bag
For more information on ACR Electronics' beacons and range of products, visit the ACR Electronics stand in Tent 344 at this year's Fort Lauderdale International Boat show.
About ACR Electronics, Inc.
ACR Electronics, Inc. designs and manufactures a complete line of safety and survival products.
Available products include Emergency Position Indicating Radio Beacons (EPIRBs), Personal Locator Beacons (PLBs), ARTEX Emergency Locator Transmitters (ELTs), Search and Rescue Transponders (SARTs), Strobe Lights, Life Jacket Lights, Boat Search Lights, and other associated safety accessories. ACR's facility Quality Management System (QMS) is certified by TUV USA and is certified in accordance with AS9100C / ISO 9001:2008 standards. Additionally ACR maintains FAA Part 145 Repair Station
Certification status. Recognized as the world's leader in safety and survival technologies, ACR has provided safety equipment to the marine, outdoor and aviation industries as well as to various worldwide government agencies since the late 1950's. For more information, please visit https://www.acrartex.com/.
The products and services herein described in this press release are not endorsed by The Maritime Executive.