ABB Drives For Emission-Free River Commute in Lisbon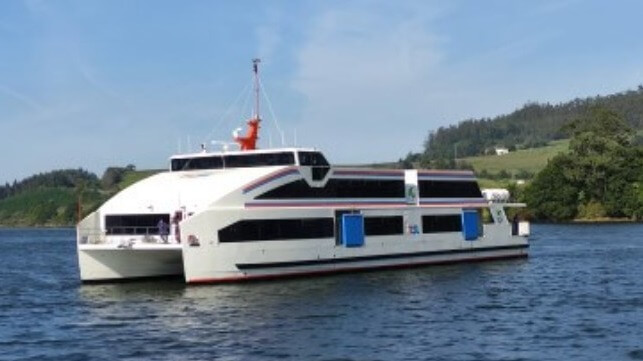 First all-electric ferry
• Lisbon's debut all-electric ferry, equipped with ABB's power solution, has been delivered by shipyard Astilleros Gondán to urban transport provider Transtejo
• Environmentally-friendly operations along the Tagus river will transform metropolitan commuting in Portugal's capital city
• The new fleet will play an integral role in delivering Portugal's goal of carbon neutrality by 2050
The first of ten new, all-electric ferries opens a new age of emission-free commuter services along Lisbon's Tagus River, in the latest example of green transformation from Portugal's capital city. The vessel, whose operations rely on an integrated power, automation, energy storage and propulsion solution from ABB, has now been delivered to the ferry operator Transtejo by the Astilleros Gondán shipyard. Replacing a fleet of older, fossil fuel-burning ferries, the 40-meter, 540-passenger vessels will also improve passenger comfort and reduce operational and maintenance costs.
"Delivering the first of these ten ferries is an important milestone for us, and it is a joy to see her on the water in Lisbon. We very much look forward to delivering the other nine," said Antonio Pacheco, Director of GRP Division, Astilleros Gondán.
Ferry electrification is key to Portugal's strategy to reach carbon neutrality by 2050. Consolidating Lisbon's reputation as one of the most environmentally-friendly cities in the world, the electric ferry program continues a transformative period for a municipality that won the 2020 European Green Capital award.
"Lisbon is making waves as a pioneer in environmentally-friendly public transportation, as many of the world's cities realize the benefits electric ferries bring for sustainability," said Juha Koskela, Division President, ABB Marine & Ports. "ABB's leading position in integrated electrification solutions for urban ferries is a highly visible example of our work to make the maritime industry safer, smarter, and more sustainable. We at ABB are proud to play a key role in shaping shipping's new reality."
With power distribution managed by ABB Onboard DC Grid™ ensuring that the output of each ship's 1,860-kWh battery pack is safe, reliable and optimized, ABB estimates the new ferries will cut about 6,500 tons in CO2 emissions along the Tagus river every year – equivalent to the emissions of 1,400 passenger cars.
ABB also provides the control and rectifier systems for shore power and an advanced communications system that identifies the vessel arriving, its charging status and the power required, enabling the ferries to recharge within 5-10 minutes.
With the latest figures from the Maritime Battery Forum[1] showing 586 battery-powered vessels in operation worldwide and 195 more on order, ferry owners remain at the forefront of switching to hybrid and electric vessel propulsion. ABB works closely with ferry companies worldwide, supplying integrated hybrid and electric propulsion solutions. Recent projects include the Maid of the Mist Niagara Falls tour boats, 'Fusion Class' ships for P&O Ferries, a new ferry connecting mainland Iceland and Vestmannaeyjar island, and ferry conversions for Swedish owner ForSea Ferries.
ABB's Process Automation business is a leader in automation, electrification, and digitalization for the process and hybrid industries. We serve our customers with a broad portfolio of products, systems, and end-to-end solutions, including our # 1 distributed control system, software, and lifecycle services, industry-specific products, measurement and analytics, and marine offerings. As the global #2 in the market, we build on our deep domain expertise, diverse team, and global footprint. We are dedicated to helping our customers increase competitiveness, improve their return on investment and run safe, smart, and sustainable operations.
go.abb/processautomation
ABB is a technology leader in electrification and automation, enabling a more sustainable and resource-efficient future. The company's solutions connect engineering know-how and software to optimize how things are manufactured, moved, powered and operated. Building on more than 130 years of excellence, ABB's ~105,000 employees are committed to driving innovations that accelerate industrial transformation. www.abb.com

The products and services herein described in this press release are not endorsed by The Maritime Executive.