Zim Joins LNG Dual-Fuel Rush with Maiden Voyage of New Boxship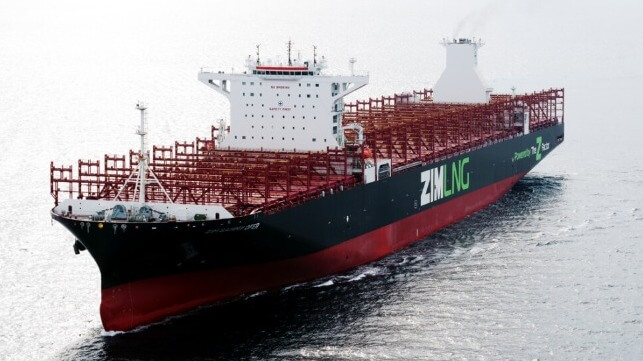 Zim is highlighting that it has officially entered a select but growing segment of the container shipping industry along with vessel owner Seaspan as among the first to have LNG dual-fuel containerships in operation. The company saluted the fact that its first LNG-fueled vessel, Zim Sammy Ofer, departed Asia at the beginning of the week bound for the United States East Coast on the first leg of its maiden voyage.
While LNG continues to draw extensive attention, at the moment it remains a selective group of shipping companies that are running these vessels. DNV calculates that currently there are just 45 dual-fuel LNG containerships in service worldwide, eight years after the first vessel was introduced. CMA CGM has been the leader in the sector investing heavily in LNG. The select nature of this group however is expected to grow rapidly over the next five years. DNV calculates that 189 LNG-fueled containerships are currently on order for delivery by 2028.
"We're proud to be at the forefront of the LNG revolution, marking this exciting milestone," wrote Zim in today's posting on social media. The company highlights the cutting-edge technology and sleek, environmentally friendly design, of the ship, which is the first of a class of 10.
Zim Sammy Ofer departed Asia earlier this week on its maiden voyage (Zim)
Built by Samsung Heavy Industries, the vessel is 1,200 feet long with a beam of 167 feet. Her rated carry capacity is 15,000 TEU. The 160,000 dwt vessel is part of Zim's Neo-Panamax vessels and will operate under a long-term charter from Seaspan.
The vessel's design sought to maximize its energy and operating efficiencies. It includes a twin-island design, a unique vertical bow, and optimized hull forms. The state-of-the-art propulsion system centers around the dual-fuel main engine which has an output of 46,000 kW at 80 rpm. Her maximum speed is 22.5 knots. Zim expects the energy-efficient design will produce as much as a 23 percent emission reduction.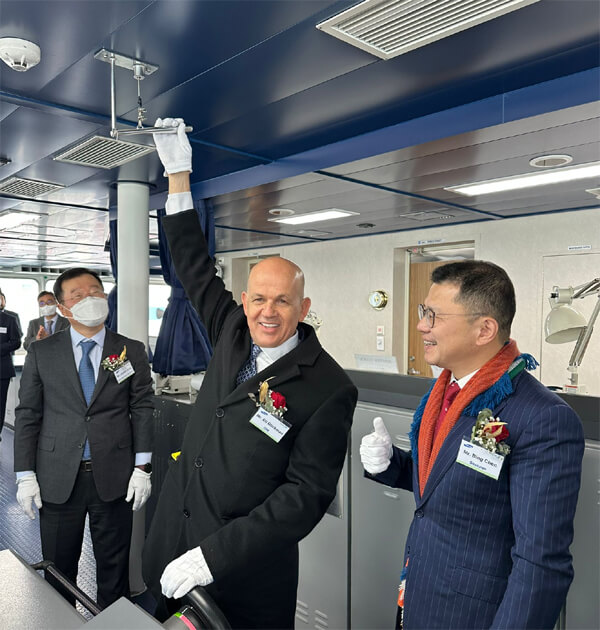 Eli Glickman, ZIM President & CEO, and Bing Chen, Atlas Corp President & CEO "ringing" in the naming of both companies' first LNG dual-fuel containership (Zim)
The naming ceremony for the vessel was held in South Korea on February 17 with the company proudly highlighting that they named the pioneering ship after the patriarch of the Israeli shipping industry. Ofer, a Romanian Jew, immigrated to British Palestine, acquiring his first ship after World War II in 1950. He created a shipping empire and when he died in 2011 he was reported to be the wealthiest person in Israel and along with his brother who died the same year among the 100 wealthiest people in the world.
After delivery to Zim, the vessel departed on its maiden voyage from Ningbo, China on March 1 with additional scheduled calls for Shanghai and Busan, South Korea. Her AIS shows that she is due to reach the Panama Canal on March 23, proceeding first to Kingston, Jamaica, and then along the U.S. East Coast with stops in Savannah, Charleston, Norfolk, and finally New York. She is proceeding to Haifa, where Zim plans welcoming festivities for its newest ship.
Owned by Seaspan, the vessel is registered in Hong Kong. The containership leasing company points out it is also part of the broader industry decarbonization effort. In addition to the 15,000 TEU class, Seaspan also expects to begin delivery of its new 7,800 TEU dual-fuel newbuilds in 2023. Last September, Seaspan reported it had canceled a contract for four LNG-fueled vessels due to certain conditions in the contracts not being fulfilled by the counterparty. Seaspan, which was recently taken private in the acquisition of its parent company Atlas, is pursuing a strategy to grow its fleet.
Zim according to Alphaliner's rankings is currently the tenth-largest carrier. They have a fleet of 139 vessels with a total capacity of over 560,000 TEU.