Japan's Port of Yokohama became a Green Award incentive provider on April 1, 2017. The Port of Yokohama joins the Port of Nagoya which became a Green Award incentive provider from February 1, 2017.
Green Award is an international ship certification and incentive scheme. Ports and companies in over 20 countries support the initiative and reward ships meeting top safety and environmental standards. The scheme aims to help reduce the risk of incidents and accidents and to promote quality shipping.
The Port of Yokohama has served as a gateway to the greater Tokyo area and has welcomed countless cruise ships since its opening in 1859 as Japan's first modern international trading port. It lies 11 nautical miles closer to the Pacific than Tokyo Port.
The Port of Yokohama has been actively tackling environmental and safety issues for many years. Now, all Green Award certified ocean going vessels are entitled to a discount of 15 percent on port dues.
"It is an important decision," said Jan Fransen, Executive Director of Green Award. "Due to its special geographical position and port facilities handling various cargo types, Yokohama is one of the key ports in Asia. The port plays a major role in shipping in the region. Yokohama's sustainable approach and participation in the Green Award scheme will help mitigate negative effects of shipping in the whole area."
"By participating in the program, we hope it will result in improving the port safety and environment even further," said Fumiko Hayashi, Mayor of the city of Yokohama. "The Port of Yokohama is the core of Yokohama's logistics and economy. And the port is strategically one of the most important ports in Japan that handles various ship types; container carriers, pure car carriers, cruise ships, liquid and dry bulk ships etc. The largest two import cargoes are LNG as number one, followed by petroleum, which cover one third of the throughput. We will accelerate our contribution to the environment by taking the opportunity to participate in the program and sharing it to the world."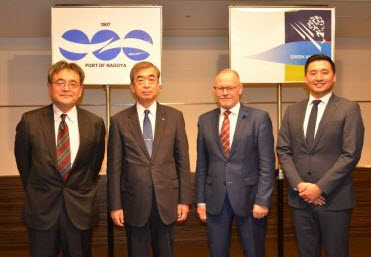 The Port of Nagoya is the largest port in Japan in terms of total cargo throughput and a major point of entry to Japan. The port chose to support Green Award certified ships in order to contribute to a joint maritime Corporate Social Responsibility which results in a considerable risk reduction in ship operations and ultimately in protecting the environment.
The Port of Nagoya deploys Green Award as a tool to improve the standards in shipping and to identify and reward ships which implement the best practices and maintain high quality standards. All types of Green Award certified ships are entitled to a 10 percent discount on port dues.
"Environmental protection and safe operations, as a responsibility within the maritime industry, can be addressed through a joint approach by ports, maritime related businesses and ship owners and managers," says Fransen. "This will motivate for early and proper implementation of International conventions and beyond by implementing best practices in this industry. Japan, as one of the major maritime players, has a strategically important role in motivating others in Asia to follow the example as set by the Port of Nagoya and Kitakyushu earlier."
The Green Award procedure is carried out by the Bureau Green Award, the executive body of the independent non-profit Green Award Foundation. The certification procedure consists of an office audit and an audit of each individual ship applying for certification. Amongst many others, the assessment focuses on crew, operational, environmental and managerial elements.
Green Award vessels receive a reduction in port dues at ports around the world including Belgium, Canada, Latvia, Lithuania, the Netherlands, Oman, New Zealand, Portugal and South Africa.