WWL Expands South Korea Logistics Operations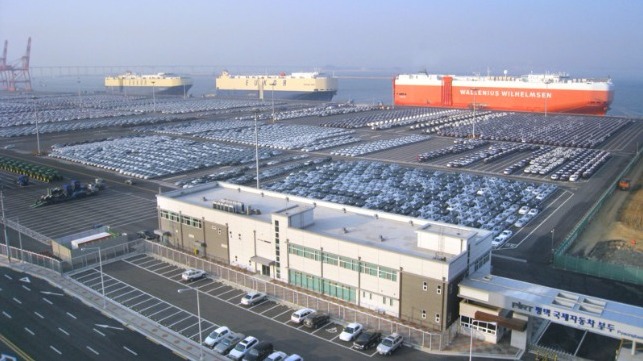 WWL is expanding its land-based logistics operations from 2022 after a major investment in South Korea.
Together with Eukor Car Carriers and Pyeongtaek International RoRo Terminal (PIRT), WWL is working to strengthen its logistics footprint in Pyeongtaek. WWL will be part of a group of companies responsible for developing over 1,130,000 square meters of dedicated logistics land in the Pyeongtaek/Dangjin Port Phase 2-1, Port and Hinterland Development Project.
Located just southwest of Seoul, Pyeongtaek Terminal is near two of Korea's main transportation links and is in the country's closest port to China. Providing secure storage for up to 10,000 vehicles, PIRT handles large numbers of imports, especially cars from Europe and Japan – some 600,000 units annually.
Once construction is complete, WWL has committed to purchase 66,000m2 of land through PIRT, jointly owned by WWL and Eukor. The intention is to develop and operate a first-class vehicle processing center and inland port extension of PIRT, to focus on the growing market of import vehicles in Korea.
In 2008, Eukor and WWL collaborated to form PIRT as a terminal operating entity in Pyeongtaek. PIRT has since grown and developed into a world-class terminal operator handling more than 700,000 units annually. More than 10 ocean carriers call at PIRT on a regular basis, with Eukor and Glovis being the largest customers.
Consisting of eight members, the Gyeonggi Pyeongtaek Global Corporation consortium led by GS Global, one of the largest industrial conglomerates in Korea, won the rights to develop the land through a competitive bidding process earlier this year. The land reclamation project will extend existing land that is predominantly used for vehicle and parts logistics.
Plans for the construction and civil works are expected to be approved mid-2018. The estimated completion date for all works is towards the end of 2022. A large sea wall must be constructed, which will later be filled with dredged sand and top-soil. The civil works are to be carried out by GS Engineering & Construction, which was also the leading project builder of the PIRT terminal in 2007.
The project is a key step in WWL's global land-based logistics strategy, which includes the aim to develop and expand a global network of terminals and technical services sites through mergers and acquisitions, partnerships and entering new verticals.