World War II Merchant Mariners Push for Compensation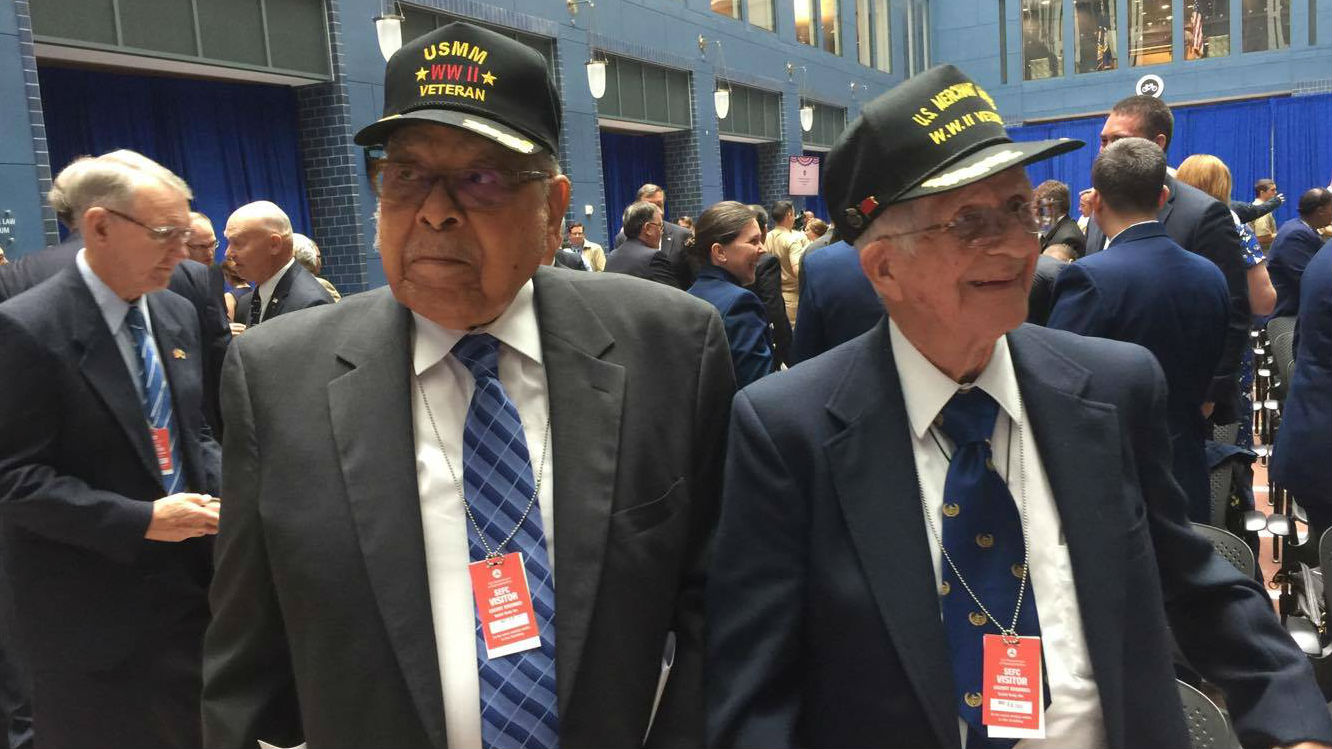 A group of veterans who served in the American Merchant Marine during World War II were on Capitol Hill earlier this month, meeting with members of Congress to urge passage of a bill that would provide them with long-overdue compensation.
The occasion was part lobbying event, part "meet and greet" and part book launch: each participant received a copy of the highly regarded new book by William Geroux, The Mathews Men: Seven Brothers and the War Against Hitler's U-Boats.
Geroux himself was on hand to present an overview of the book, which details the pivotal role played by the men and women who risked their lives to move war fighters, supplies and materiel to the front and back during World War II.
The Mathews Men is Geroux's first book. It is available on Amazon.com, which selected it as one of the top books of 2016. It tells the story of the merchant mariners of World War II through the eyes of seven siblings from Mathews County, Va., all of whom took part in the massive Allied sealift.
The Capitol Hill event, which took place on May 19, was sponsored by the Navy League and USA Maritime, an organization that includes MIRAID and MM&P. It was attended by a large audience of Congressional staffers and by Congressmen Al Green (D-Texas) and Alan Lowenthal (D-Calif.). Green is the chief sponsor, and Lowenthal is a co-sponsor, of the Honoring Our Merchant Mariners Act of 2017, which would provide World War II merchant mariners with a one-time $25,000 benefit.
Shortly before President Franklin Roosevelt died in 1945, he urged Congress to recognize World War II merchant mariners, who were not included in the G.I. Bill. But it never happened.
"We owe these mariners an expression of gratitude and an apology," Green said. "We were wrong, we should have done it sooner, but it's better to do it now than never at all."
"This is a debt that's long overdue," Lowenthal said. "I intend to make sure that this Congress lives up to our obligation to honor those who so bravely served our nation."
The veterans who traveled to Washington, D.C., for the event were: Morris Harvey, vice president (and former president) of the American Merchant Marine Veterans (AMMV); Charles A. Mills, a member of the AMMV Government Affairs Committee; and AMMV members Eugene F. Barner and Bob Weagant. They were accompanied by two daughters of American Merchant Mariners, Laura Johnson Riddle and Sheila Sova.
The four Vets who were able to participate represent the estimated (less than) 2,000 remaining WWII U.S. Merchant Mariners.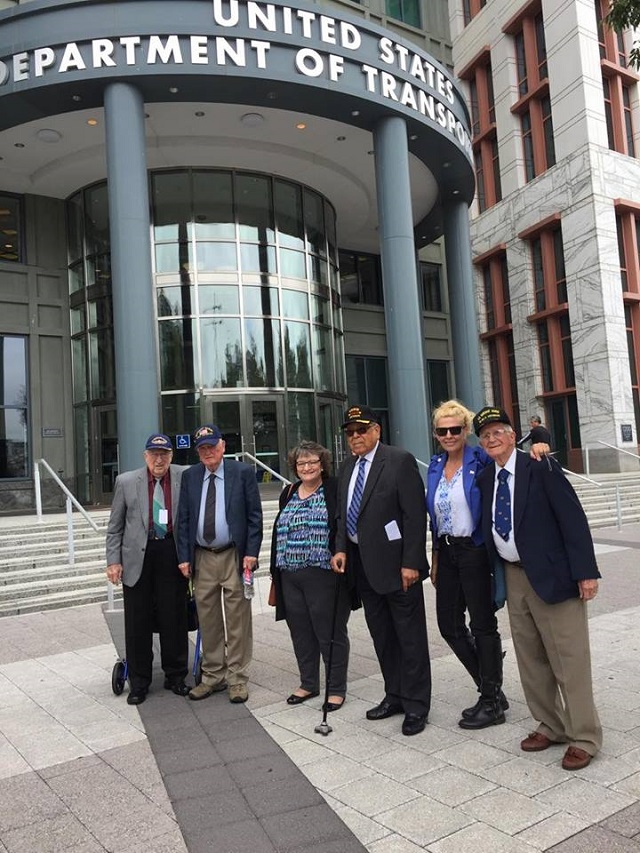 L to R: Morris Harvey; Robert Weagant; Sheila Sova; Charles A. Mills; Laura Johnson Riddle; Eugene Barner