WISTA Honors Kitack Lim for Contributions to Diversity in Maritime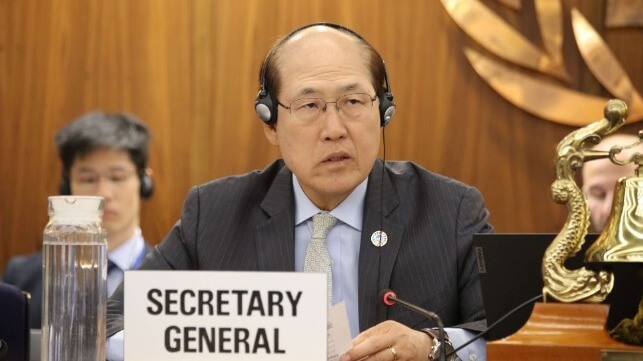 On Wednesday night, WISTA UK held its second annual IMO Summer Reception in London. The occasion included the announcement of two awards to recognize outstanding contributors to the cause of diversity and inclusion in maritime. The Woman of the Year Award went to Petra Wilkinson CBE, and the Man of the Year Award was given to Kitack Lim, Secretary-General of the IMO.
Petra Wilkinson, CBE, is Director of Maritime at the UK Department for Transport. With 33 years of experience, she has been a leader in operations, strategy and programs – particularly at LISW (London International Shipping Week) and in augmenting port connectivity. According to WISTA, her efforts have spurred the UK maritime industry to take action to boost diversity.
Kitack Lim, the ninth Secretary-General of the International Maritime Organization (IMO), has been an outspoken advocate of diversity in the maritime industry. He has helped to promote and establish diversity organizations, including WISTA International and WISTA UK, and aided the launch of the IMO International Women in Maritime Day, which is now in its second year.
Monica Kohli, President of WISTA UK, expressed her pride in the accomplishments of the Woman and Man of the Year. "Their unwavering commitment to diversity and inclusion has been an inspiration to us all. Through their efforts, they have contributed significantly to fostering an inclusive maritime industry where everyone has equal opportunities," Kohli said.
For this year, WISTA UK has dedicated its fundraising to support the Maritime London Officer Cadet Scholarship. This initiative aims to raise $38,000 to fund a female sea cadet scholarship for young trainees who wish to become licensed officers.
Baroness Vere, the UK's Parliamentary Under Secretary of State at the Department for Transport, attended the event and commended the award recipients. "It's fantastic to see all the hard work being done, and to acknowledge the contributions that so many have made and continue to make, to ensure we have a more diverse and inclusive maritime industry," she said.