Wind Tower Service Firm Plans to Build Jones Act Ships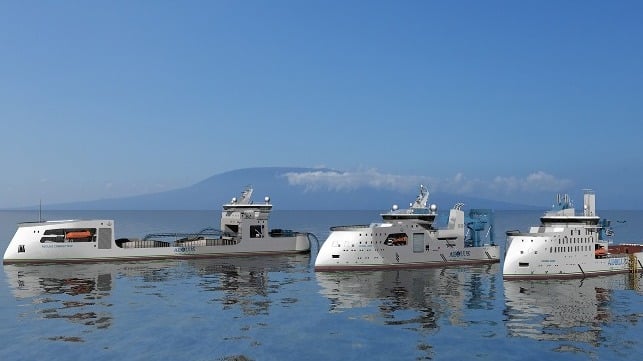 American wind tower services firm Aeolus has contracted with Norwegian shipbuilder Ulstein to design the first offshore wind service operations vessel to be built for the Jones Act market.
Aeolus Energy Group has been providing maintenance services for the onshore wind turbine market for six years. In April, it announced plans to enter the budding U.S. offshore wind market by building a fleet of American-made, American-crewed ships. It also plans to open the first large Global Wind Organization (GWO) safety training center in the U.S. by the middle of next year, providing the certifications for a new American offshore wind workforce.
Aeolus' first vessel will be based on the SX195, an existing Ulstein design. Several examples have previously been built in Norway for Bernhard Schulte Offshore and Acta Marine BV. The hull design includes a rounded stern and Ulstein's distinctive X-Bow in order to reduce slamming, and the ship is fitted with a heave-compensated walk-to-work gangway to transfer technicians to and from wind towers.
The rounded stern of the SX195, shown here on the Acta Shipping vessel Acta Auriga (Ulstein)
Aeolus said that the vessel will be built at an American shipyard, not at Ulstein's own yard in Norway. It did not announce financing arrangements or competing bidders for the order. According to VesselsValue, vessels built at Jones Act-qualified yards typically command a threefold (or fourfold) construction price premium relative to ships built in Asia. The first commercial offshore wind farm in the U.S., Block Island Wind, relied upon a UAE-built, Norwegian-owned jack-up vessel to install its equipment, with support from Jones Act liftboats and workboats.
Eventually, Aeolus hopes to build a full fleet of Jones Act wind farm service vessels, including cable ships, crew transfer vessels and hotel ships to serve wind projects from installation through decommissioning. "The design and ultimate construction of these vessels will result in significant job creation and is a demonstration of confidence in the American shipbuilding industry," said Elia Golfin, Aeolus' CEO. "We look forward to pushing the envelope in the offshore wind industry where Jones Act-compliant vessels are concerned."