NOAA's Hurricane Hunters have made a flight through Hurricane Matthew on board a WP-3D Orion aircraft. The aircraft fly ahead and around the storm to measure the "steering currents" in order to improve intensity and track forecasts.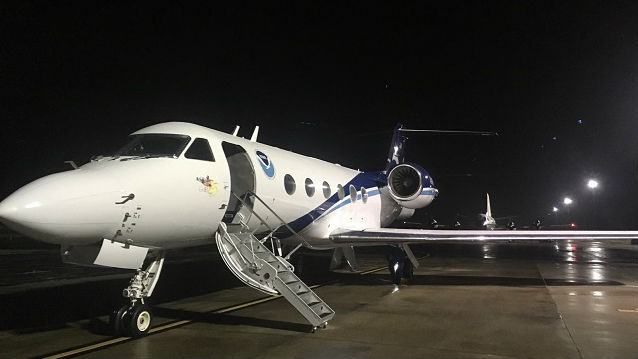 Disruptions to air travel, manufacturing, supply chains and retail stores spread on Friday as Hurricane Matthew worked its way up Florida's Atlantic coast, leaving people and goods stranded and plants idled.
After cancelling 590 flights on Thursday, American Airlines Group canceled 580 on Friday and 160 on Saturday. A spokesman said flights had resumed in Miami on Friday morning as the storm moved north.
Delta Air Lines canceled 240 flights for Friday, and 80 for Saturday for northeastern Florida, coastal Georgia and South Carolina.
Southwest Airlines canceled 130 flights for Friday and 95 for Saturday. United Airlines said it had canceled 270 flight from Wednesday through Saturday.
The storm also caused railroads and retailers to suspend or curtail operations.
Ports in Florida and up the coast, including Savannah, Georgia, and Charleston, South Carolina, also suspended operations.
Toyota Motor like several other automakers, holds new vehicles at ports prior to final shipment to dealerships. A Toyota spokesman said Friday the company moved most of its vehicles parked at the port in Jacksonville inland ahead of the storm. Nissan Motor said it had also moved some vehicles from the port prior to its closure and BMW accelerated deliveries inland.
On October 6, Nicole strengthened into a hurricane and sustained winds of 105 mph. As Hurricane Matthew's winds were near 120 mph at the time Nicole peaked, it marked the latest in the calendar year that two storms in the North Atlantic Ocean have had winds over 105 mph simultaneously, according to Joe Munchak, research scientist at NASA's Goddard Space Flight Center in Greenbelt, Maryland.