Watch: Foundations Laid for Denmark's Largest Windfarm
The 49 foundations for Denmark's largest wind farm, Horns Rev 3, are now in place in the North Sea north-west of Blåvands Huk on the Danish west coast. The last foundation was piled into the seabed just after New Year and the construction process of the farm is on schedule.
The foundations consist of a 40-50-meter (130-165-foot) long steel monopile with a diameter of 6.5 meters (21 feet) and weight of up to 610 tons.
Since mid-October, the installation vessel Innovation has carried out the installation of the foundations for Vattenfall. The next step, which will commence by the end of spring, will be to install the transition pieces between the foundation and the turbine tower. After this, the installation of the towers can begin.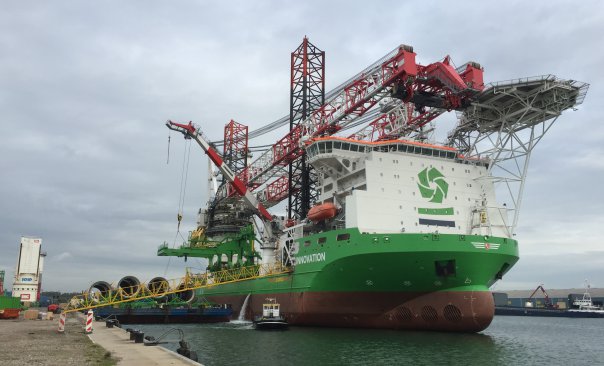 The 8.3 MW turbines will be produced by MHI Vestas and are one of the world's most powerful wind turbine models currently available. The turbines are 187 meters (614 feet) high with a rotor diameter of 164 meters (538 feet).
The 406MW farm will be in full operation and ready to cover 425,000 Danish households' annual electricity consumption by 2020.
In addition to Horns Rev 3, Vattenfall is developing the wind farms Danish Kriegers Flak, Vesterhav Syd and Vesterhav Nord. Together, these farms will increase Danish electricity production from wind power by more than one fifth and cover more than 1.5 million Danish households' annual electricity consumption. This makes Vattenfall Denmark's largest developer of wind power.