Wärtsilä Wins Landmark Contract for Scrubbers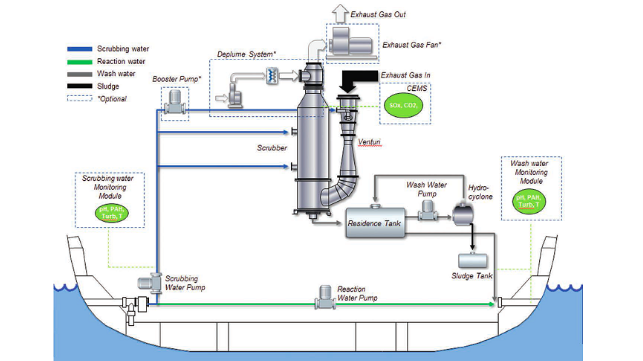 Technology group Wärtsilä has secured a landmark $200 million contract from a European container carrier for scrubber system retrofits, defying skeptics of exhaust treatment as a means of sulfur emissions compliance.
In a statement, Wärtsilä said that it will deliver 50 MW, 60 MW and 70 MW Wärtsilä hybrid scrubber systems for the retrofits. These systems have the flexibility to operate in both open loop mode (for the open ocean) and closed loop mode (for freshwater trading areas). Wärtsilä will also provide engineering and site advisory services for the vessels. The firm did not disclose the buyer.
The IMO's 0.5 percent cap on fuel sulfur content (or the emissions equivalent) will take effect in 2020, and shipowners and operators are taking a variety of routes to satisfy the new requirements. Top container carrier Maersk Line has announced that it will not purchase scrubbers, and will opt for low-sulfur fuel instead. Low-sulfur fuel blends and distillate fuels will cost much more per tonne than today's standard HFO bunkers, but the capital cost of making the change is low. German competitor Hapag-Lloyd has indicated that it will not use scrubbers, and France's CMA CGM is opting for LNG propulsion rather than scrubbers for its latest giant newbuilds.
However, one European ocean carrier has previously been tied to a large scrubber contract. Number-two operator Mediterranean Shipping Co. (MSC) placed an order for up to 11 new mega-ships last year, and it specified scrubbers for all of them. Industry outlet ShippingWatch reports that MSC is also the client for Wärtsilä's new retrofit contract.
Wärtsilä holds roughly one third of the current scrubber market, and it installed about 80 units last year. Sigurd Jenssen, the firm's director for exhaust gas cleaning, told Reuters in April that scrubbers would not be a "silver bullet" for all 60,000 merchant vessels trading worldwide. Still, he suggested that 2,000-3,000 ships could be fitted with the technology by 2020 - a sizable market, given that each scrubber is worth several million dollars (plus installation costs).