Video: USS Fitzgerald Moves Into Drydock
Commander Bryce Benson, the commanding officer of the guided missile destroyer USS Fitzgerald, has been relieved of command temporarily for medical reasons. Cmdr. Benson suffered unspecified injuries in the collision between the container ship ACX Crystal and the Fitzgerald off Yokosuka last month. His cabin was crushed by the impact, and he was found hanging outside the vessel's superstructure; belowdecks, seven sailors were killed and two others injured.
Cmdr. John Fay will assume temporary duties as Fitzgerald's commanding officer. Fay is currently assigned to Seventh Fleet's Task Force 70 staff, and he served previously as commanding officer of the destroyer USS Howard.
In comments to the press, Navy spokesman Cmdr. Clay Doss emphasized that the decision to relieve Cmdr. Benson was solely related to health issues, not to factors related to the collision.
Meanwhile, temporary patching of the 12-foot by 17-foot hole in the Fitzgerald's hull has been completed, and on Tuesday she was moved into drydock at Fleet Activities Yokosuka for evaluation. The Navy has not yet decided whether to attempt permanent repairs in Japan or to bring Fitzgerald back to a yard in the United States.
The U.S. Navy, U.S. Coast Guard, Japan Coast Guard and Philippine flag state authorities are all conducting investigations into the collision. The Navy has two parallel investigations running, including a legal inquiry by the Judge Advocate General Corps (JAG).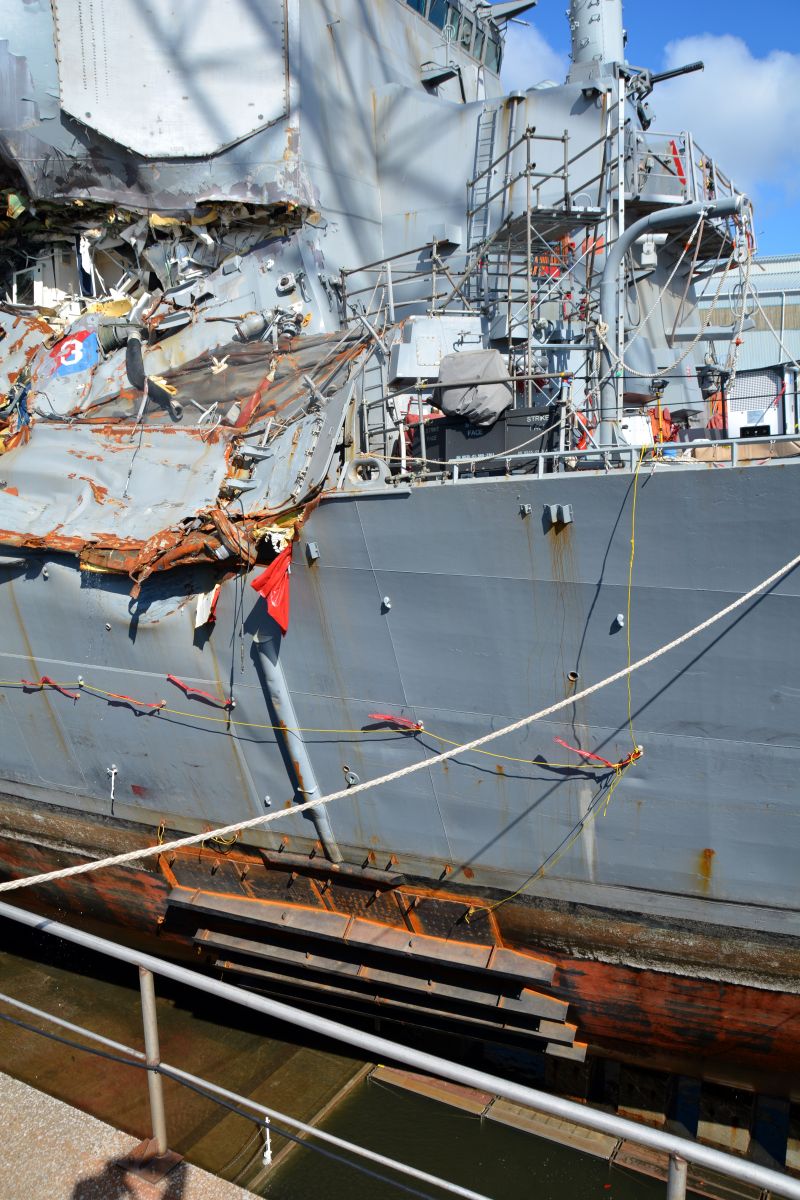 Damage to the Fitzgerald's hull revealed in drydock, Yokosuka, July 11 (USN)