Video: USCG Medevacs Cruise Passenger Who Swallowed a Battery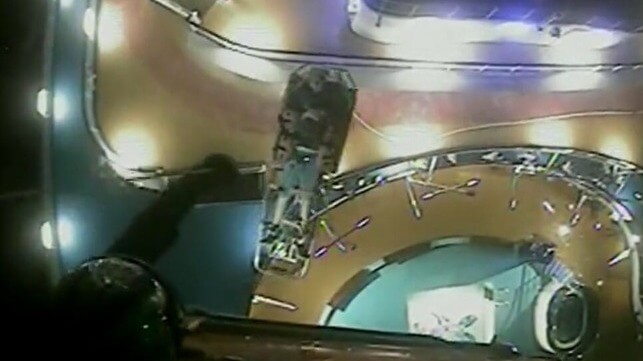 Last weekend, the U.S. Coast Guard's Houston command center received an unusual medevac request: a cruise ship passenger had swallowed a battery and needed specialized treatment.
On Saturday evening, the cruise ship Carnival Dream had just departed Galveston and was under way on a weeklong Caribbean voyage when she had an onboard medical emergency. The crew contacted the Coast Guard and reported that an 86-year-old man had ingested a battery and was "experiencing gastrointestinal issues and other side effects."
The duty flight surgeon for Sector Houston-Galveston recommended a medevac, and an MH-65 Dolphin helicopter aircrew departed Houston to meet up with the Carnival Dream. The crew hoisted the passenger safely aboard and delivered them to higher medical care at University of Texas Medical Branch in Galveston. The individual was reportedly in stable condition on delivery.
The @USCG medevaced an 86-year-old man that reportedly ingested a battery from a cruise ship 50 miles off #Galveston, Texas. More on the rescue here: https://t.co/BsT9G37O1x pic.twitter.com/4XamamqB0L

— USCG Heartland (@USCGHeartland) May 7, 2023
Second medevac in two weeks
The incident was the second medevac case involving Carnival Dream in two weeks, and much less challenging than the first. In the early hours of April 29, the crew of the Carnival Dream requested a medevac for a passenger who was having symptoms consistent with a heart attack. The ship was under way about 250 nm to the south of Alabama, en route to Galveston.
An MH-60 Jayhawk helicopter aircrew was dispatched to meet the ship and evacuate the passenger. They encountered rough weather on scene, and while they were able to land their rescue swimmer onto the deck of the ship, they were forced to delay the completion of the medevac because high winds endangered the safety of the helicopter. A video captured by a passenger appears to show that the Jayhawk was nearly driven into the water by a severe downdraft. The helicopter and an accompanying SAR airplane were forced to return to shore to wait out the bad weather.
A cruise ship was in distress off the coast of California, and a helicopter almost fell into the sea during rescue operations. pic.twitter.com/2l30TmUEOT

— Akin???? (@ics923) May 3, 2023
Passenger video of the near-miss (off Alabama, not California, as described in the caption)
"The aircrew experienced severe and rapidly deteriorating weather," said Air Station New Orleans CO Cmdr. Keith Blair in a statement. "Through exceptional real-time risk management, crew resource management, and superb piloting, the aircrew was able to safely recover the aircraft and land at the air station."
A second aircrew later returned to Carnival Dream to evacuate the victim. He was delivered to University Medical Center in New Orleans and was reported to be in stable condition. The Coast Guard released video footage of the second, routine medevac attempt (below).