Video: Ukraine Confirms Direct Hit on Another Russian Warship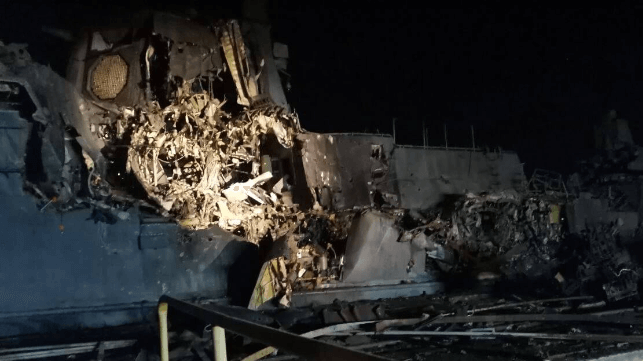 The Ukrainian armed forces have confirmed a successful missile strike on a Russian Navy corvette at a yard in eastern Crimea, far behind the Russian lines. It is the latest in a series of attacks that have effectively driven Russian warships away from the western Black Sea.
On Saturday, Ukraine launched a missile attack on the Zaliv shipyard complex in Kerch. Ukrainian and Russian authorities both acknowledged the strike, and the Russian military reported that a ship had been damaged. The shipyard is about 150 miles away from the nearest Ukrainian-controlled territory, and the Armed Forces of Ukraine said that it used French-built SCALP cruise missiles to conduct the attack.
The AFU claimed that Zaliv was "where one of the most modern ships of the Russian Navy was stationed," but did not identify the target.
BREAKING:

Ukraine releases footage of their cruise missile strike against the Russian Black Sea Fleet "Askold" corvette which was docked at the Port of Kerch, Crimea.

The day before yesterday, 3 French-donated SCALP cruise missiles struck the ship. pic.twitter.com/B0FH8wIlON

— Visegrád 24 (@visegrad24) November 6, 2023
On Monday, a new video and a single image of the strike's aftermath appeared on social media. They appear to show multiple missile strikes on a Karakurt-class corvette, confirming the suspicions of open-source intelligence analysts.
The Ukrainian military has confirmed the identity of the damaged vessel as the Askold, the latest of the Russian Navy's Karakurt-class missile corvettes. Askold had not yet been commissioned into service, but it would have carried up to eight Kalibr cruise missiles capable of striking targets within Ukraine. Instead, the imagery suggests that it sustained extensive damage to its superstructure, and the timeline for repair (if any) is unknown.
It is the latest in a series of successful cruise missile strikes against the Russian Black Sea Fleet. Ukraine struck a shipyard in Sevastopol on September 12, destroying an amphibious assault ship and a Kilo-class attack submarine in a single blow. It also destroyed the fleet's headquarters building in downtown Sevastopol, as well as the backup fleet command post outside of the city.