Video: Ukraine Claims Strike on Russian Navy Command Center in Crimea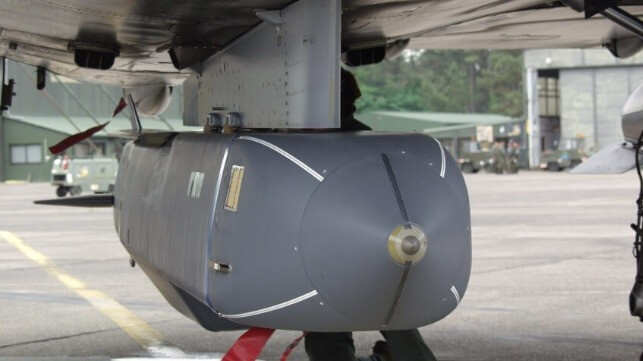 The Ukrainian military has claimed a successful airstrike on a command complex for the Russian Black Sea Fleet at a site on the outskirts of Sevastopol.
Video imagery from the scene confirms a strike on a bluff above the town of Verkhnosadove, about 12 miles northeast of Sevastopol's harbor. A local Telegram channel focused on Crimean security reported that three UK-built Storm Shadow missiles hit in this area, and that the target was likely a "former military facility" near the village.
Radio Svoboda released satellite pictures of the Russian command post of the Black Sea Fleet in Russian-occupied Crimea.

The south wing of the building has been completely obliterated.

Coordinates:

44°42'53"N 33°42'15"E

Source: https://t.co/9p8uKcP6r9#Ukraine #Crimea pic.twitter.com/zZZip6D2Ts

— (((Tendar))) (@Tendar) September 21, 2023
According to the Ukrainian military, this site corresponds to the 744th Communications Center of the Black Sea Fleet's headquarters unit. Nine years ago, when Ukraine was in control of Crimea, the complex was a reserve command center for the Ukrainian Navy; it is under Russian control today, and Ukrainian military intelligence believes that the Black Sea Fleet relocated some of its functions to this reserve center after the recent missile strikes on Sevastopol.
Mikhail Razvozhayev, the governor of Russian-occupied Sevastopol, claimed in a statement that the attack had been repelled by air defenses and that debris from downed drones had fallen near Verkhnosadove.
The strike is the latest in a series of coordinated Ukrainian attacks on Russia's Black Sea Fleet, both ashore and afloat. On Sept. 13, Ukraine used Storm Shadow missiles to destroy a tank landing ship and a Kilo-class submarine in drydock in Sevastopol's inner harbor, reducing the size of Russia's fleet and temporarily disabling a key ship repair facility in one blow.
The Ukrainian Navy has also used remotely-controlled drone boats to hold Russian warships at risk - not just in coastal waters, but all the way on the other side of the Black Sea. Ukraine's drone boats have made confirmed hits on two ships near Novorossiysk, one a government-linked tanker and the other a landing ship. The threat is pervasive enough that the Russian Navy has withdrawn three of its remaining landing ships into the Sea of Azov, on the other side of the Kerch Strait, according to Ukrainian Navy spokesman Dmytro Pletenchuk. This is a remarkable reversal: Ukraine has long since lost all of its warships to Russian forces, but it is still contesting sea control in the region.