Video: Tanker Fire off Malaysia with 3 Crew Missing, 23 Rescued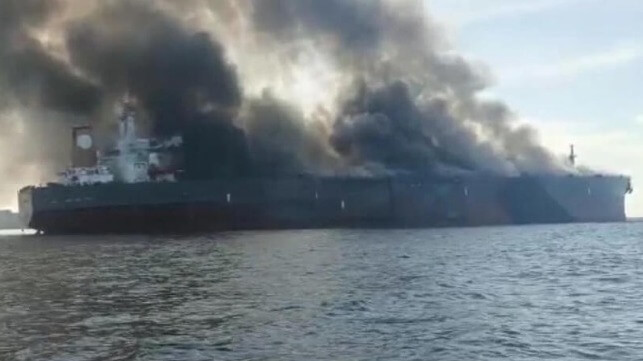 A search and rescue operation is continuing for three missing crewmembers from an Aframax tanker that caught fire in southern Malaysian waters. The majority of the crew has reportedly been rescued by another tanker in the area as well as the Malaysian Maritime Enforcement Agency (MMEA). The vessel involved in the incident has a murky history with reports it was transporting Iranian oil.
Details on the situation, which is still unfolding, are scarce at this time, but Singapore's Maritime and Port Authority has identified the tanker as the Pablo, registered in Gabon. The Singapore authority is monitoring the rescue operation and broadcasting warnings to marines regarding the burning tanker and to be looking for the missing seafarers.
The MMEA is reporting that it received a distress call for the tanker at 1600 and sent rescue boats to the scene. Another tanker, Enola (301,000 dwt) went to the assistance of the burning ship and was able to rescue 18 crewmembers. The MMEA is reporting that its rescue vessel Petir 12 pulled two crewmembers from the water and a third crewmember was rescued by another vessel. At last count, they are now saying 23 of the 28 crew aboard were rescued but a crew list is still being assembled.

Tanker appears to be fully engulfed in the fire (MMEA photos)
There is no indication of how the fire began but pictures and video from the MMEA show the 761-foot vessel engulfed with the fire moving forward along the ship. It is unclear if the crude oil tanker has any cargo aboard but from the pictures, she appears to be high in the water.
The tanker was built in Japan in 1997 and her 26-year career shows a long list of owners. The Equasis database records seven names and flags since 2018, but a clean inspection record with no detentions. The Pablo was coming from Zhoushen, China where she departed on April 18 and in the Riau Archipelago in the anchorage. She is 96,773 dwt.
According to a statement by Johor Malaysian Maritime Enforcement Agency (MMEA) director First Admiral Nurul Hizam Zakaria, authorities received a distress call from the Gabon-registered ship at 4pm today. pic.twitter.com/ouZBIKe0BV

— TheVibes.com (@thevibesnews) May 1, 2023
The database shows she was sold last year with a previous name of Mockingbird. She had most recently been registered in Tanzania. The Iranian watchdog group United Against Nuclear Iran (UANI) Tweets that the vessel has long been suspected of smuggling Iranian oil. Claire Jungman writes, "UANI has been tracking the vessel Pablo for many years. Pablo has been suspected of transporting Iranian oil on at least 10 different occasions since sanctions were re-imposed in 2019."
The MMEA reports she is 37.5 nautical miles northeast of Tanjung Sedili and the fire continues to burn.