RNLI Lifeboat Crew Rescues Yachtsman in Gale Conditions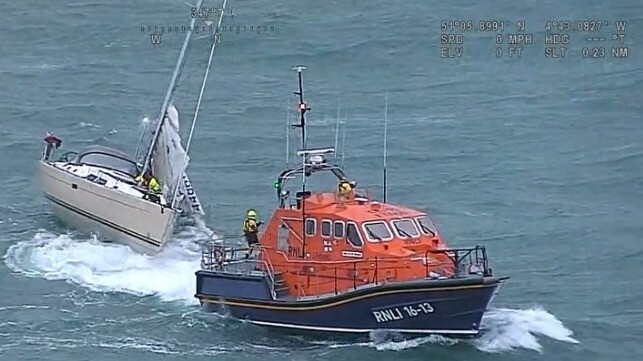 During a recent heavy storm off the coast of Devon, two motor lifeboat crews rescued a lone yachtsman from a disabled sailing vessel, battling 20-foot wavesand winds that approached 50 miles an hour. Despite the challenging conditions, the crews managed to save the vessel as well by towing it to a safe harbor.
On March 31, as Storm Mathis drenched the southwestern coast of England, a yacht was disabled by heavy winds off the coast of Hartland. The vessel's sails were shredded by the wind and it was adrift. The sole sailor on board the vessel made a radio distress call, and while it was received, the maritime rescue coordination center did not hear the yacht's location.
An HM Coastguard helicopter crew was dispatched to the scene to look for the distressed vessel, but a shore-based Coastguard team beat them to it. An HM Coastguard outpost on the Isle of Lundy spotted a light, and the helicopter aircrew located the yacht shortly after.
Meanwhile, the all-weather lifeboat of the RNLI Appledore station got under way. In Force 9 conditions and 20-foot-high waves, they departed their station and rendezvoused with the stricken yacht. Despite the challenging surface conditions, the lifeboat crew got a line across and established a tow, intending to pull the yacht to safety in Bideford Bay.
However, the weather did not cooperate. The tow parted in the heavy swells, forcing the lifeboat crew to pass the line again and rig a new tow. The tow line then broke again, and this time the responders opted for a change in strategy. An inshore lifeboat from Clovelly joined the response and put an RNLI crewmember aboard with the sailor. After anchoring the yacht in calmer waters, they took the sailor off and brought him ashore for safety.
"The weather was quite extreme, with wind speeds of 50 miles per hour the size of the waves were reaching around six meters high – at times we couldn't see the top of the mast on the yacht," said Appledoor coxswain Martin Cox. "Etablishing a tow in those conditions was really difficult, and with the tow line breaking more than once, it took a lot of skill from the crew to manage the situation."