Video: Norwegian Prima Loses Gangways as Mooring Lines Part in Strong Winds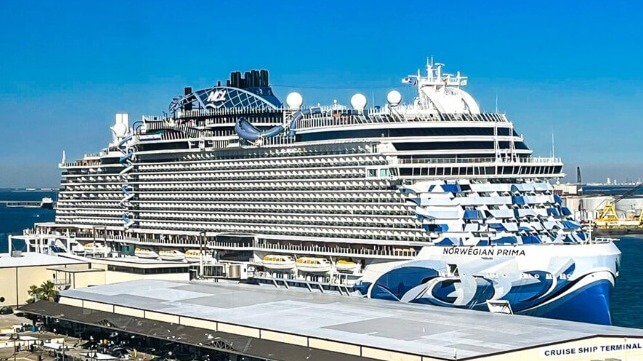 Strong winds in the port of Zeebrugge, Belgium on Saturday after being cited as the cause of an accident that saw Norwegian Cruise Line's 143,535 gross ton cruise ship Norwegian Prima pushed away from the pier and drifting into the harbor. Two gangways provided by the port were dragged from the pier into the harbor.
The 981-foot cruise ship, which has 20 passenger decks above the waterline and a large sail area, arrived in the Belgian port as its last port call on a 10-day cruise from Iceland through Scandinavia and ending in England. When she docked Saturday morning, wind speeds were being reported at between 6 and 18 knots. By midday port officials were raising a yellow caution flag reporting gusts over 40 knots.
Around 2:45 p.m., the massive cruise ship can be seen straining against its mooring lines. One line and then a second can be seen to part and the cruise ship beings to angle away from the pier. First one of the port's two large metal gangways is pulled into the harbor but appears to remain affixed to the cruise ship. The second gangway soon is also pulled into the harbor and falls from the ship sinking into the harbor.
Port officials reported that three tugs were required to steady the cruise ship and aid in returning it to the pier. No one was injured during the incident and by 5:15 p.m. they reported new gangways had been attached. More than 2,000 passengers returning from shore excursions were able to reboard their cruise ship without incident.
An investigation was planned for the port to determine why the cruise ship broke loose. They were also planning to retrieve the gangways from the harbor after the Norwegian Prima departed.

@BBCBreaking - As were about to reboard the ship (Norwegian Prima) after Belgium, the gangways started slowly rolling towards the edge of the water, which we then noticed was because the boat began drifting away. They immediately started screaming and halting everyone from board pic.twitter.com/9aIiwPBalr

— AJ (@NewsHoundHero) July 15, 2023