Video: Italian Police Seize Cocaine Smuggled in Bulker's Sea Chest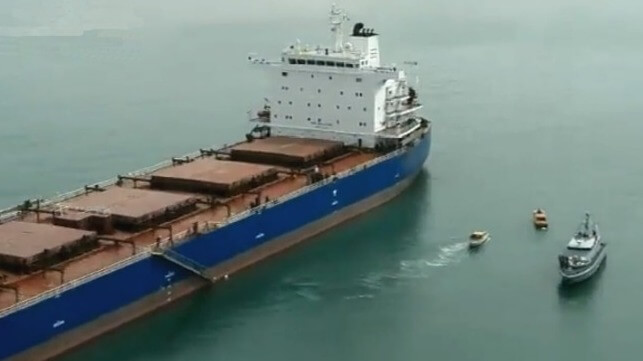 Italian authorities are reporting their second large cocaine seizure in a week. This one is highlighting the drug smugglers continuing efforts to use vessels are couriers likely without the participation or knowledge of the crew onboard.
Greece's Laskaridis Shipping, which identified itself as the commercial manager of the bulk carrier Atlas (75,124 dwt), issued a brief statement confirming the seizure and reporting that they were cooperating with the Italian authorities. The crew has not been implicated in the smuggling and according to the company is participating in the investigation.
The bulker registered in Liberia loaded its cargo in Santos, Brazil departing for Europe on March 23. It made a refueling stop in Gibraltar on April 10 before proceeding to Venice, arriving on April 17. The vessel anchored off the port and it was there that the Italian authorities began their investigation.
Divers surveying the hull of the 738-foot vessel discovered the smuggling. They are reporting that a total of 570 packages believed to be cocaine were retrieved from a sea chest. The divers made repeated surveys of the hull of the vessel. The Venice Border Police and international drug authorities were assisting after the initial discovery.
#GDF #Venezia: sequestrati 850 kg di sostanza stupefacente occultata a bordo di una nave da carico proveniente dal Sud-America.#NoiconVoi pic.twitter.com/XqeBPV0cko

— Guardia di Finanza (@GDF) April 20, 2023
Laskaridis is pointing out that the vessel's sea chest is located approximately 36 feet below the waterline. The sea chest they said is a part of the vessel that is not accessible from onboard and can only be reached by divers.
The vessel initially was detained in the anchorage before being permitted to proceed to the berth on April 20 to continue normal commercial operations. The authorities have continued to search the ship looking for additional cocaine that might be concealed. They report that a total of 850 kg has been recovered so far with an estimated street value of $165 million.
Typically, they point out that containerships are the target of smugglers with the contraband hidden among the containers. However, increasing they have found instances where the smugglers are concealing the drugs in the hull of a ship.
Italian President Giorgia Meloni and the Minister of Economy and Finance Giancarlo Giorgetti issued a statement thanking the Guardia di Finanza for their continued diligence and success in seizing the drugs. Earlier in the week, the police reported finding two tons of cocaine well-packed and buddled together floating in the Mediterranean off the coast of Sicily. The working theory is that a passing cargo ship deposited the drugs offshore with flotation devices and markers. Boats from shore they speculate were to come out and retrieve the packages.