Video: Indonesia Ferry Crashed into Pier Knocking Over Landing Bridge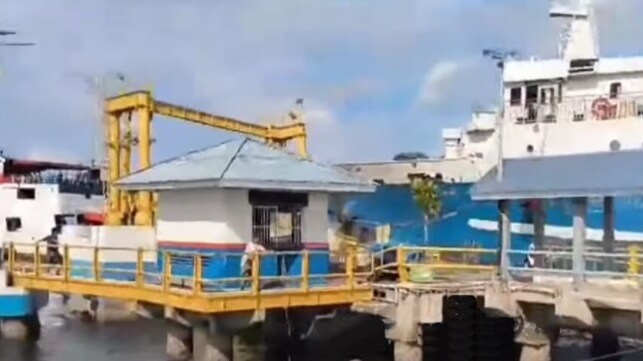 An inter-island commercial ferry lost control while approaching the dock on Wednesday in northern Indonesia. Video is circulating on the Internet of the vessel crashing into the dock, knocking over the landing platform, and continuing on to make contact with another ferry before coming to a stop.
No one was reported injured in the accident but one of the two ferry docks is reportedly badly damaged and temporarily closed. Officials have also ordered the City Line ferry to temporarily suspend operations while the investigation is underway. The ferry operates between Bastion and neighboring Tidore Island.
The ferry Mutiara Pertiwi 1 (built in 1988) was approaching the Bastion Ferry Terminal on Ternate Island in northern Indonesia on the Molucca Sea. According to media reports the vessel, which is 1,500 gross tons and 221 feet long, was empty as it was approaching the port to dock at Pier 2. At 1545 local time eyewitnesses are saying the vessel seemed to veer off course and did not slow down as it was approaching the pier. It sideswiped Pier 1, knocking down the landing bridge, which fell into the water, and breaking concrete and damaging a dolphin on the pier. The vessel continued forward causing damage to a second ferry before coming to a stop.
The port operator said that Pier 1 will be closed while the investigation and repairs are ongoing. They said 13 ferries operate from the port with five privately owned. The operator of this ferry, ALB, has four of the vessels operating from the port.
Officials said a team was on site starting their investigation and that they would be interviewing the captain and passengers in the port. Weather conditions did not seem to be a factor although there is a strong current in the area.