Video: Indigenous Peruvians Attack and Block Oil Company's Vessels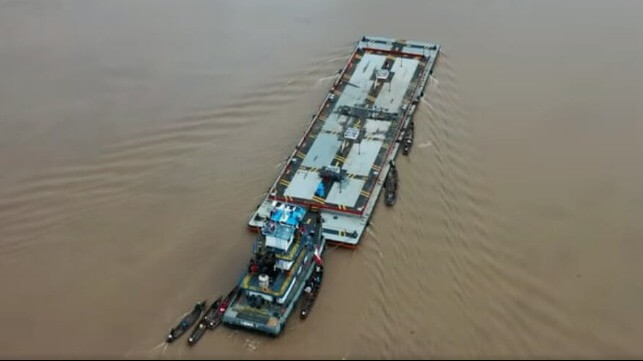 PetroTal, a Canadian-based company that reports it is the largest crude oil producer in Peru, said that its vessels and crews are coming under attack by the indigenous population as it works to move oil and supplies along the rivers in Peru's Amazon region. The company reports the attacks escalated with kidnappings, commandeering of its vessels, and blocking river transport. They released a brief video showing the population in small boats surrounding and attacking one of the company's vessels that was moving a barge on the river.
In the latest attacks, PetroTal reports that multiple small boats blocked the river and that others surrounded their vessels. Working from the native canoes, they report the attackers are throwing Molotov cocktails (homemade incendiary devices) at the crews and vessels. The company highlights that the attacks are putting their crews and vessels at risk as well as the environment.
They report that a local activist group, the Association for Development and Conservation of Bajo Puinahua (Aidecobap) has to date taken control of two vessels and kidnapped 12 crewmembers. The company says they are also holding a vessel loaded with 40,000 barrels of oil. They report that this is also not the first time that the group has kidnapped crewmembers. Last November, PetroTal says another crew of Brazilian citizens was held for 48 hours.
In addition, on June 6 PetroTal says followers of Aidecobap attacked a Peruvian Navy vessel using firearms and knives. In that instance, the company reports one officer received serious injuries.
The company says the followers of the group continue to blockade the river. PetroTal in a statement urged the authorities to intervene to restore peace and order.
The unrest and efforts to disrupt the oil operations reportedly flared up at the end of May in a dispute over social funds using monies from the oil operations for the benefit of the population. PetroTal says the protestors are using "unacceptable criminal conduct," and "so-called territorial control," in its attempts to nullify a regulation approved by consensus.
The company reports that it contributes 2.5 percent of its audited production into a fund that is used for the development of projects to benefit the population of the district where it operates. The company started operations in 2018 and shipped its first crude oil in 2020.