Video: Fire Aboard Domestic Chinese Product Tanker Kills Two Crewmembers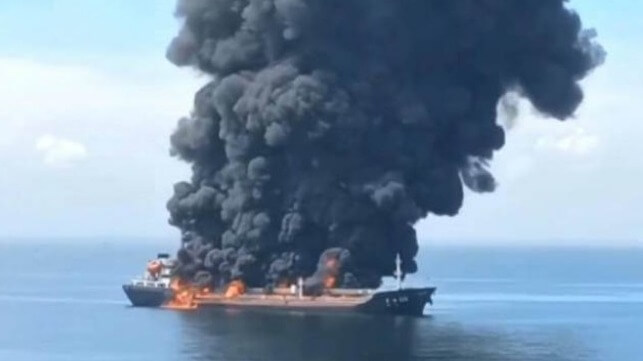 A domestic Chinese product tanker caught fire Tuesday afternoon, August 22, anchored in the Gulf of Tonkin near the southern Chinese province of Guangxi and the border with Vietnam. Fifteen of the 17 crewmembers aboard were able to evacuate with initial reports saying that two crewmembers were unaccounted for after the rescue. Later reports indicate that the bodies of the two missing crewmembers were recovered from the port side of the ship later last night.
The 7,000 dwt tanker Sheng You 229 was loaded with 6,858 tons of diesel that was being transported from Yangpu. The Chinese maritime authority reports the vessel was owned by a licensed company, Shenzhen Haichanghua Shipping, which operates a total of 16 oil tankers and four product tankers in the domestic trade. Sheng You 229 is reported to be approximately 384 feet long and registered in China.
The vessel anchored the prior day at the southern port and reports indicate the ship called for assistance around 14:30. The crew was advised to abandon ship. They were able to launch one or more rafts which carried the 15 crewmembers and were recovered by 15:40 local time by the Coast Guard and other vessels including tugboats responding to the calls.
Crewmembers aboard other ships in the bay told the media that they heard one or more explosions coming from the tanker. Officials report the fire was extinguished by 16:45 and they believe there was no release of oil. By 21:40 rescue crews were able to board the vessel and recover the bodies of the missing crewmembers.