Video: Engine Room Fire on Italian Ro-Ro Ferry
The Italian Coast Guard and local fire brigades assisted in putting out an engine room fire on an Italian ro-ro ferry that operates in the Aeolian Islands located in the Tyrrhenian Sea north of Sicily. The Guardia Costiera di Milazzo reports that there were no injuries and the vessel has been towed into port to undergo an inspection and repairs.
Reports of the engine room fire were received at 1130 on March 6 from the ferry Filippo Lippi, one of the smaller inter-island vessels operated by Siremar. The ro-ro was sailing between the ports of Rinella and Lipari when the fire broke out. The Filippo Lippi is a 33-year-old vessel built in 1990. It is 233 feet long and 1,643 gross tons.
The vessel was sailing approximately three miles southwest of Salina Island. According to the Coast Guard, the vessel was off its normal route, an issue they will be investigating to determine why the vessel was sailing in that area. In addition to the Coast Guard patrol boat, two other naval vessels were sent to assist, along with a Coast Guard helicopter and several fire teams placed on alert. Two merchant vessels were also ordered to divert to the scene.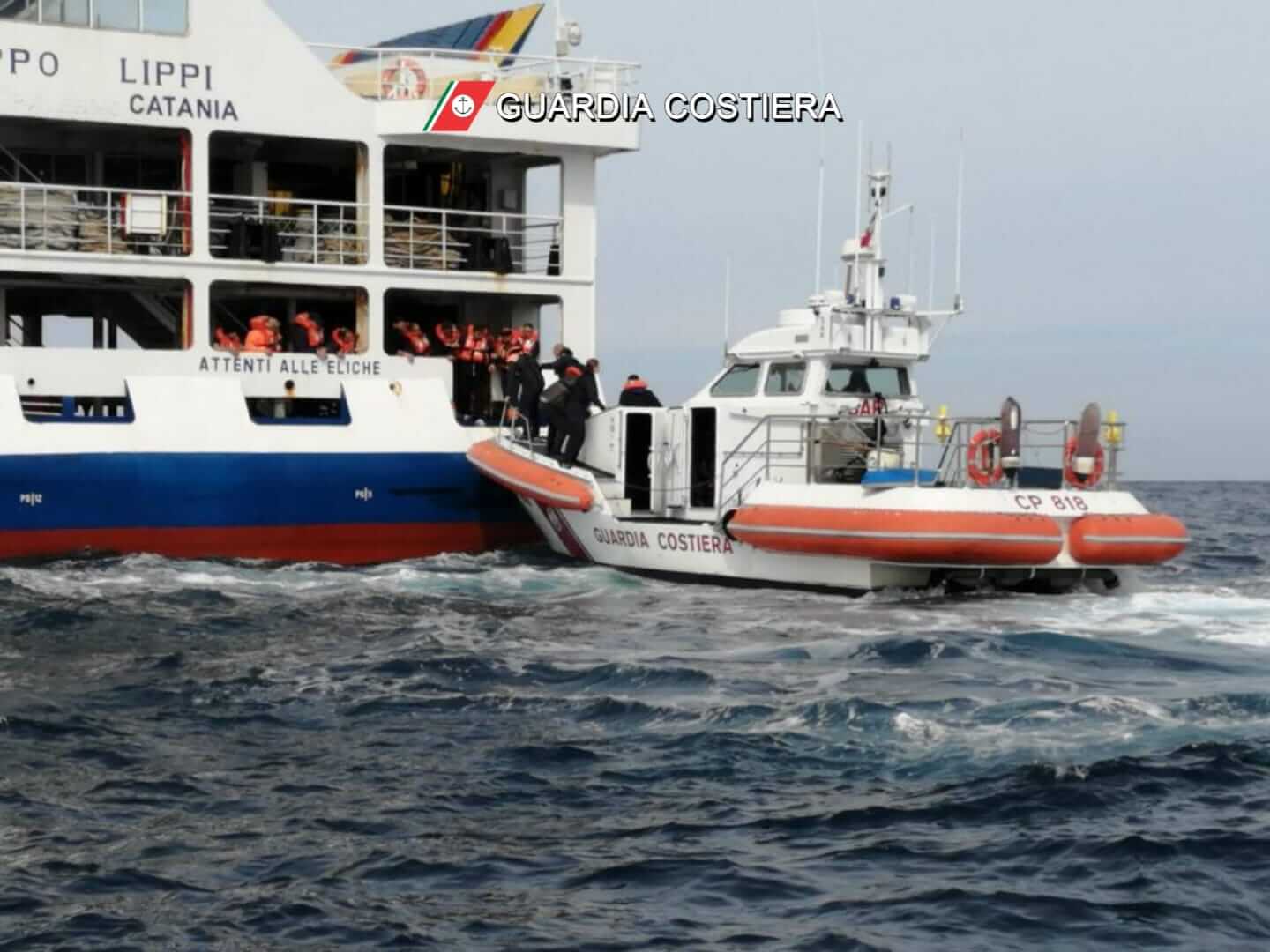 Passengers and drivers aboard the ferry were evacuated and later placed on a sister ship (Guardia Costiera)
Arriving at the scene the Coast Guard reported that dense smoke was billowing from the engine room. They decided to evacuate the five passengers that were aboard on to the Coast Guard's speed boat. Luckily there were only two passengers and three truck divers aboard the vessel which has a capacity of 795 passengers and 70 vehicles.
The vessel's automatic CO2 extinguishing system had been activated but according to reports, the fire was being fed by a fuel leak. A fire brigade boarded the ferry and assisted in fighting the fire. They were able to extinguish the fire after reaching a fuel cutoff value.
Another of Siremar's ferries, the 1,55 gross ton Antonello da Messina was sent to the scene. The passengers from her sister ship were transferred to the second ferry.
The Filippo Lippi was towed to port arriving on March 7.
Incendio a bordo di un traghetto. Guardia costiera di Milazzo trae in salvo i passeggeri https://t.co/2h6bmqlj2P pic.twitter.com/dpW5mwLVAT

— Guardia Costiera (@guardiacostiera) March 6, 2023