Video: Containership Sinks in Taiwan Anchorage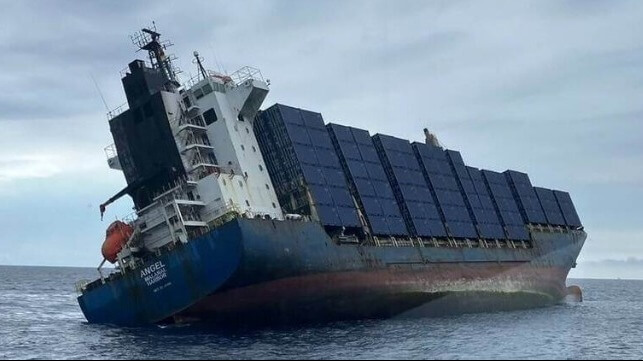 Efforts to stabilize a containership anchored near the entrance to Taiwan's Kaohsiung port failed overnight. The feeder ship which had been abandoned on Thursday continued to take on water and sunk early Friday, July 21, with empty boxes scattered into the busy waterway.
Port officials had suspended one of the entrances into Kaohsiung on Thursday and today were forced to suspend the second port entrance as they worked to contain more than 1,300 containers that had been aboard the vessel. Port operations were partially restored while they continue to warn about the danger from the boxes. To the south, officials in the coastal towns were also issuing warnings to shipping and the fishing industry that the boxes were likely to be drifting into their waterways.
The Angel, a 21-year-old containership had been anchored approximately 2.8 nautical miles outside Kaohsiung since arriving from Dalian, China on July 4. Residents told the media the ship had been tilting all week and they had watched as the list grew more severe. Thursday morning the master of the vessel reported to harbor officials that this situation was dangerous and that the 19 crew had been ordered to abandon ship. They were transferred to shore while salvage efforts sought to stabilize the ship. Reports indicate that a plan to possibly tow the ship to shallow waters was rejected due to fears of an oil leak and the increasing instability of the vessel.
Details about the ship's ownership and recent operations are unclear. The Equasis database lists Navramar Shipping which is based in the Marshall Islands as the owner having acquired the ship in May 2023. The ship was registered in Palau and management is listed as being located in Azerbaijan. Equasis reports it was removed from the Indian registry and by DNV as of the beginning of June showing the vessel's current class status as unknown. Further, the database does not list a Port State inspection since 2018.
The port authority working with the Coast Guard reports they are monitoring the area around the sunken ship. Yesterday, they had strung oil containment booms reporting that there are nearly 500 tons of low sulfur fuel and light diesel aboard.
By law, the ship's owner is required to submit a salvage plan to the port. Officials said they are asking the managers for a plan to remove the oil from the ship, address the containers floating in the waterways, and for the eventual refloating and removal of the hulk.