On Sunday, the yacht Le Souffle du Nord, a participant in the Vendee Globe round-the-world race struck an unidentified object about 200 nm off New Zealand's South Island. She suffered severe structural damage forcing her skipper to head to the nearest port for assistance. It is the fifth instance of a major collision with an unidentified floating object during this year's event.
"The shock was exceptionally violentI and it gives me the shivers just thinking about it," said the captain, Thomas Ruyant. "I was at 18 knots when I hit what was probably a shipping box container making the hull and forward section explode and fold up."
Fortunately the vessel was not dismasted. Ruyant closed watertight doors and started the bilge pumps and then began motoring towards the harbor. He expressed concern that the damage was spreading. "The hull was opening up and the frame began coming a part everywhere and I was not sure if it would remain in one piece until then," he said.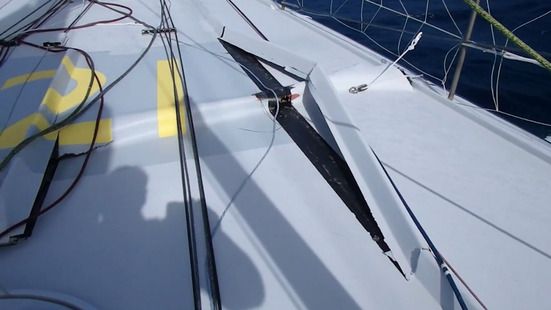 With the bow flooded and the stern of the vessel riding high in the water, Ruyant began losing steerage in large swells. After many tense hours in rough conditions, Ruyant began to get closer to shore as a volunteer rescue boat in the New Zealand Coastguard caught up with his distressed ships and escorted him safely into Bluff.
The Coastguard said his yacht was too badly damaged to be towed, but they brought two of Ruyant's shore team members and helped stabilize the vessel. "A few hours ago I thought it was all over for my boat," Ruyant said. "I could no longer make headway in 45 knots of wind." Ruyant has ended his participation in the race. Meanwhile, the race rules prevent participants from accepting outside help, but he expressed satisfaction even though he would not finish this year.
Four other competitors – Bertrand de Broc, Vincent Riou, Morgan Lagraviere and Kito de Pavant, have also exited race due to collisions with unidentified objects. Pavant was rescued by the CMA CGM research/supply vessel M/V Marion Dufresne, which was on her way to the Kerguelen Islands and the island of Amsterdam. After saving Pavant from his wrecked yacht, the Dufresne carried him as a passenger on her week's-long voyage through these remote lands.
While industry is concerned about the frequency in which containers go over the side, NOAA estimates that at least 10,000 boxes per year go overboard and that they can stay afloat for months and often semi-submerged and barely visible above the surface. The hazards posed by these "unidentified floating objects" are well-recognized in the yachting community and they are difficult to spot and avoid, especially at night.