USS McCain's Sailors Reported Fatigue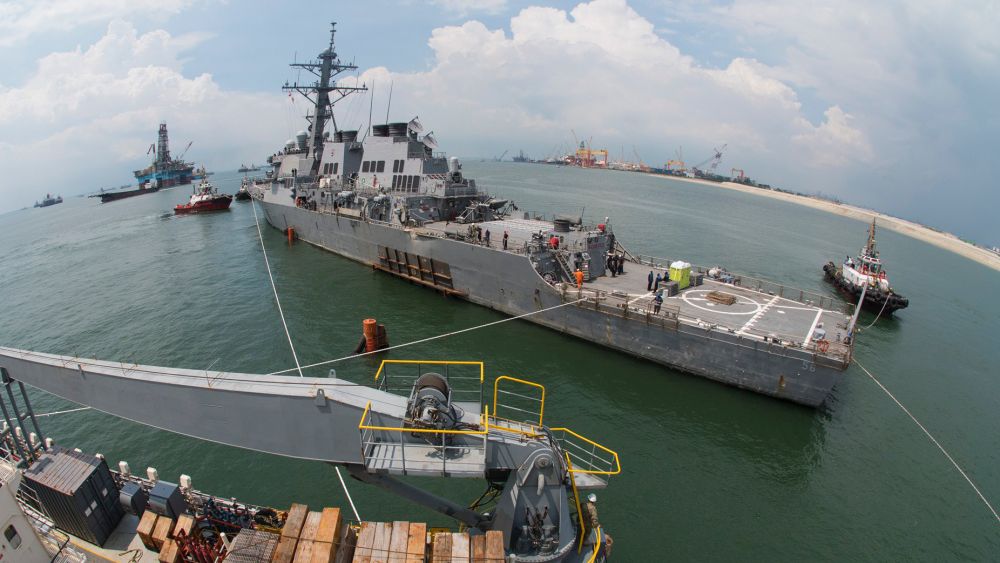 According to an internal survey, the crew of the destroyer USS John S. McCain gave their vessel poor marks the year before the warship collided with the merchant tanker Alnic MC.
The 2016 survey, which was reported Friday by UPI, revealed general dissatisfaction with shipboard conditions. Nearly 80 percent of the 140 sailors surveyed said that they felt "mentally worn out," and over half reported that they were "physically worn out" or "emotionally worn out."
The Government Accountability Office has reported that it is not uncommon for sailors in the surface fleet to work more than 100 hours per week, with overwork and fatigue especially prominent on overseas-based vessels like the McCain and the USS Fitzgerald. The Navy has promised to change watch rotations in order to address fatigue, and it has recently mandated at least seven hours of sleep in each 24-hour period.
About half of those surveyed on the McCain gave their leadership good marks. 55 percent said that the vessels' crewmembers do not always trust each other. A majority said that they were not enthusiastic about their work, and about a third said that they didn't like their jobs.
The survey results – especially the sailors' concerns about fatigue – foreshadowed the Navy's recent conclusions about the USS McCain and USS Fitzgerald collisions. "The prevailing belief of Japan-based ships and higher headquarters was that a high pace of operations equates to a high state of proficiency. In part, this belief led to an undervaluing of human performance factors, such as fatigue . . . this attitude induced a slow erosion of standards, and organizational drift from the deliberate processes used to manage time, resources, rest and a commitment to safety," the Navy's investigators wrote in their final post-accident report.