USS Independence Arrives in Brownsville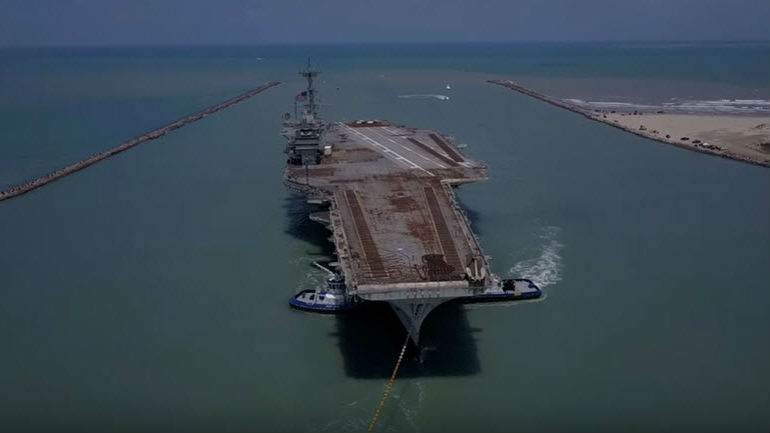 The decommissioned aircraft carrier USS Independence has arrived at her last port of call – the International Shipbreaking yard at Brownsville, Texas.
The ship left Puget Sound Naval Shipyard in Bremerton, Washington, on March 11 and was towed 16,000 miles around Cape Horn to the Port of Brownsville.
Her dismantling is expected to take around a year and a half to complete.
The 60,000-ton USS Independence was home to tens of thousands of veterans throughout her 39-years' of service and was decommissioned in 1998. She made a single tour off the coast of Vietnam in 1965 during the Vietnam War and also carried out airstrikes against Syrian forces during the Lebanese Civil War and operations over Iraq during Operation Southern Watch, the enforcement of the no-fly zone over southern Iraq.
USS Independence was the fourth and last ship in the Forrestal class of aircraft carriers. The fifth U.S. Navy ship to bear the name, she was commissioned as attack aircraft carrier CVA 62 and redesignated as multi-purpose aircraft carrier CV 62 on June 30, 1975.
General Characteristics
Keel Laid: July 1, 1955
Launched: June 6, 1958
Commissioned: January 10, 1959
Decommissioned: September 30, 1998
Builder: New York Naval Shipyard, Brooklyn, N.Y.
Propulsion system: eight boilers
Rudders: two
Propellers: four
Blades on each Propeller: five
Aircraft elevators: four
Catapults: four
Arresting gear cables: four
Length, overall: 1,069 feet (326 meters)
Flight Deck Width: 270 feet (82.3 meters)
Beam: 129 feet (39.3 meters)
Draft: 37,7 feet (11.3 meters)
Displacement: approx. 80,000 tons full load
Speed: 30+ knots
Planes: approx. 85
Crew: Ship: approx. 2,700 Air Wing: 2,480
Armament: three Mk 29 NATO Sea Sparrow launchers, three 20mm Phalanx CIWS Mk 15
Video Tributes to the arrival of USS Independence abound on YouTube: