USCG Helps Clean Up 8,000-Gallon Latex Spill Outside Philadelphia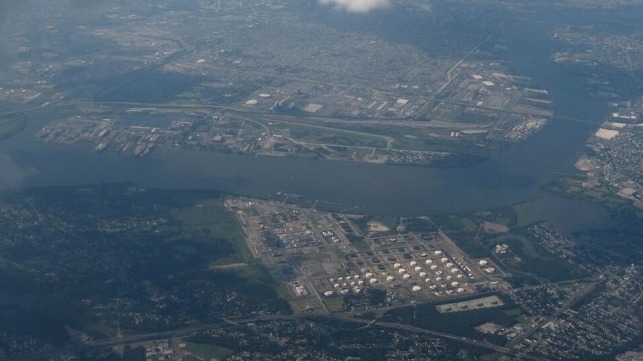 U.S. Coast Guard Sector Delaware Bay has been helping with the cleanup of a spill of latex polymer that occurred Friday after a pipe burst at a plastics plant in Bristol, Pennsylvania.
The site is located on a creek that feeds into the Delaware River, upstream from Philadelphia. An estimated 8,100 gallons of latex finishing material - a water-based acrylic polymer solution - was released, tinting the water milky white. According to operator Trinseo, the spill is composed of about 50 percent water and 50 percent latex polymer. The source of the spill has been secured. the creek has been boomed off and cleanup operations are under way.
"Our efforts are now focused on testing the local waterways," said Trinseo CEO Frank Bozich. "We are conducting a thorough assessment of all of our systems and processes to identify and address potential vulnerabilities and will take the steps necessary to close any gaps, and we are grateful for the fast response and professionalism of our local first responders, as well as the efforts of the U.S. EPA, the Pennsylvania DEP and the United States Coast Guard."
As a precautionary measure, on Sunday afternoon the city of Philadelphia asked residents to purchase bottled water. The city's Baxter water treatment plant draws from the Delaware, about 10 miles downriver from the spill, and the plant had to be restarted in order to maintain minimum flow into the municipal water system. The warning sparked panic buying on Sunday as residents rushed to get limited supplies of bottled drinking water. That warning was quickly revoked, and authorities now say that the substance is not toxic and is not expected to impact the water supply.
According to Trinseo, the spill was caused by a burst overhead pipe at the sprawling chemical complex.
"It hit the roof of a building, went down a gutter, from the gutter it went to a storm drain, from the storm drains it found another outfall basin, from there it started to leak into the river," said Trinseo SVP of engineering Tim Thomas, speaking to local media.
The EPA and local regulators are conducting continued water testing to ensure safety.
Top image: The Delaware and Schuylkill Rivers at their confluence in Philadelphia (Ken Lund / CC BY-SA 2.0)