U.S. and Japan Reaffirm Nuclear Stance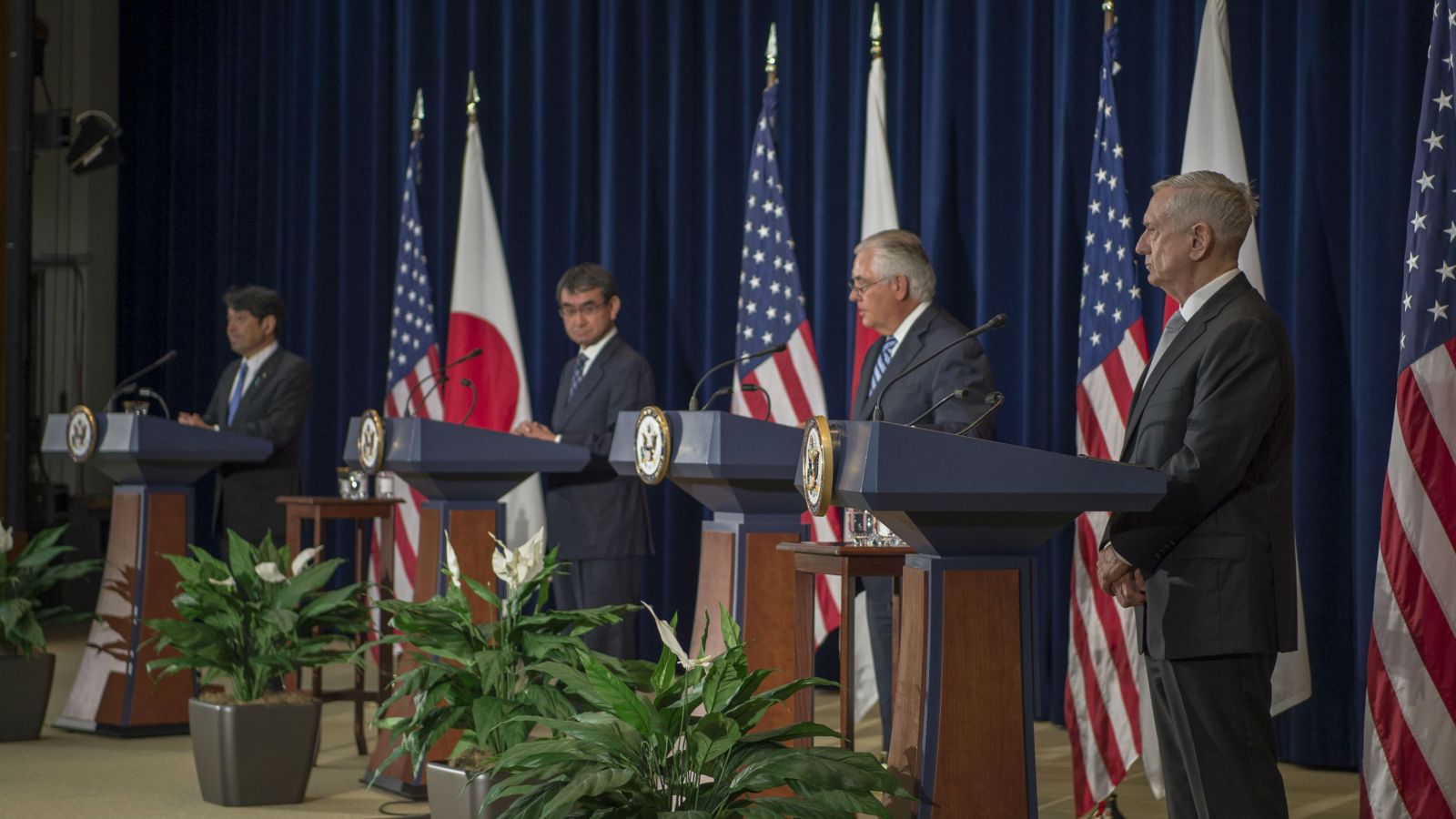 U.S. Secretary of Defense Jim Mattis, and Secretary of State Rex Tillerson, met with their Japanese counterparts this week to discuss regional security in the light of North Korean missile tests.
The ministers renewed their commitment to the U.S.-Japan Alliance and to maintaining Japanese security through "the full range of capabilities, including U.S. nuclear forces."
Mattis said the U.S. never takes alliances for granted, and the meeting reaffirmed the trust between the two nations. "In light of this serious situation we face," the secretary said, "we are accelerating implementation of the 2015 guidelines for the U.S.-Japan defense cooperation and continue to realign U.S. forces in Japan and Guam."
This was the first meeting of the U.S.-Japan Security Consultative Committee (SCC) under the Trump Administration and also the first meeting of Secretary Mattis with the newly appointed Defense Minister. The U.S. officials met with Japan's Defense Minister Itsunori Onodera and Foreign Minister Taro Kono.
The group condemned North Korea's recurring provocations and development of nuclear and ballistic missile capabilities which they say have entered a new phase, and poses an increasing threat to regional and international peace and stability. The ministers called on the international community to implement United Nations Security Council sanctions and encouraged China to take decisive measures.
Japan intends to expand its role in the Alliance and augment its defense capabilities, and the Alliance will expand cooperation through intelligence sharing, training and the joint use of facilities. They group also confirmed their shared commitment to accelerate cooperation in air and missile defense and in increased Space Situational Awareness, hosted payloads and satellite communications.
The ministers highlighted ongoing Alliance efforts to advance defense cooperation with other partners in the region, notably the Republic of Korea, Australia, India and Southeast Asian countries. Regarding cooperation with the Republic of Korea, the ministers emphasized the need to enhance information-sharing and expand trilateral exercises, including missile warning, anti-submarine warfare and maritime interdiction operations exercises.
On the same day, Mattis spoke with the South Korea's Minister of National Defense Song Young-moo, with both condemning North Korea's second intercontinental ballistic missile test on July 28. Mattis reaffirmed the "ironclad U.S. commitment" to defend South Korea and emphasized the military's role in providing extended deterrence. Mattis and Song will be meeting later this month in Washington D.C.