Ukraine Strikes Another Naval Shipyard in Russian-Occupied Crimea
On Saturday, Ukraine launched a missile attack on the Zaliv shipyard complex in Kerch, located on the eastern coast of the Crimean Peninsula. Ukrainian and Russian authorities both acknowledged the attempt, and the Russian military reported that a ship had been damaged.
According to the Armed Forces of Ukraine, French-built SCALP missiles were used in the deep strike. The shipyard is about 150 miles away from the nearest Ukrainian-controlled territory, far beyond the range of most Ukrainian weapons systems.
The AFU claimed that the attack on the yard's infrastructure was successful, and that the shipyard was "where one of the most modern ships of the Russian Navy was stationed."
Local Telegram channel Crimean Wind has identified the vessel as the missile boat Askold, a Project 22800 corvette. Askold is a newly built vessel, capable of deploying Kalibr supersonic cruise missiles, which have caused extensive damage to infrastructure behind the lines in Ukraine.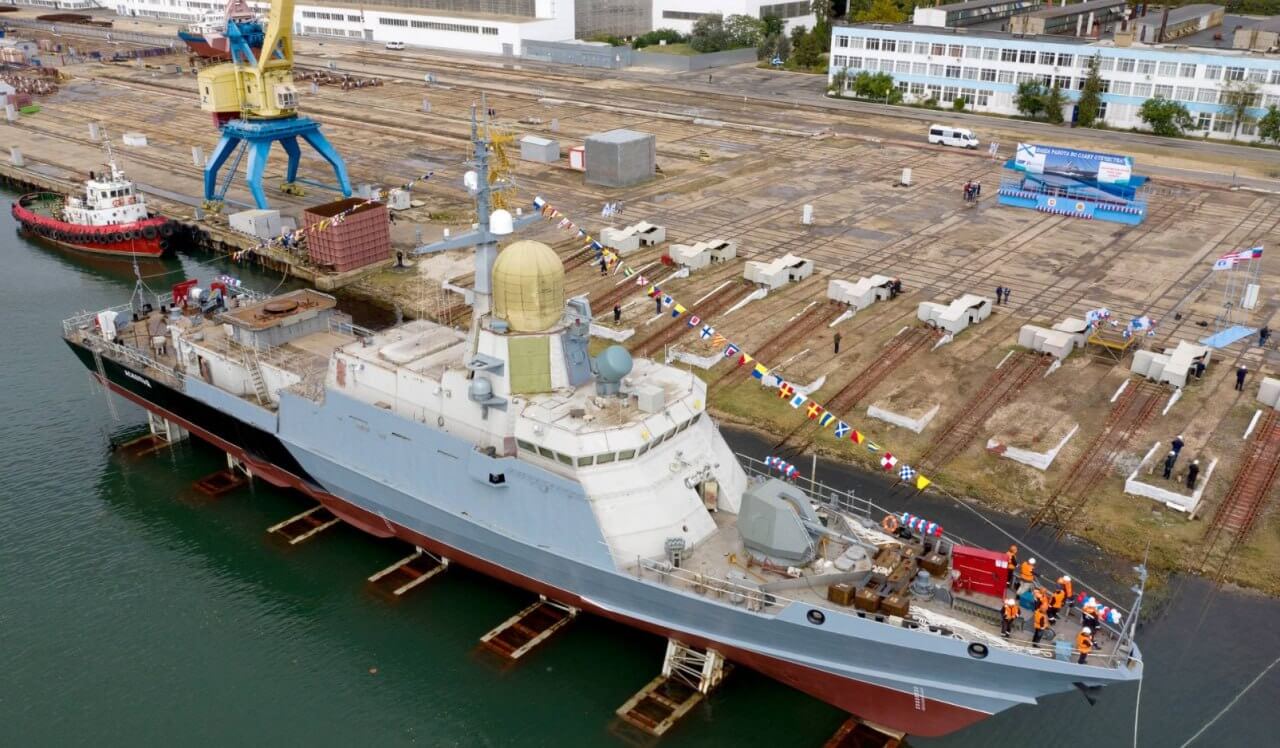 Askold at launch (Courtesy Russian Ministry of Defense)
According to Russian media, the Russian Ministry of Defense has confirmed that a ship was damaged in the strike, without identifying the vessel.
Independently-obtained satellite imagery from U.S. operator Planet Labs appears to show that a corvette-sized warship was at the pier at Zaliv a few days before the attack. The same vessel appears in a follow-up photo on November 5, but with changes: the dock next to it now appears black in color, as does the port side of the deckhouse.
The "Schemes" project has published satellite images of the Zaliv shipyard, which was subjected to an AFU missile attack yesterday. pic.twitter.com/61zSY6jdxS

— NEXTA (@nexta_tv) November 5, 2023
One more video of explosions at the Zaliv shipyard in temporarily Russian occupied Kerch, Crimea pic.twitter.com/LM7JfIPJJH

— Giorgi Revishvili (@revishvilig) November 4, 2023
A fire burning at Zaliv Shipbuilding Yard in Kerch, Crimea after it was attacked by Ukrainian ???????? fired missiles earlier today, the visible fire in the dock could possibly be a Karakurt-class ship burning after several Russian sources reported that it was hit by missiles pic.twitter.com/XtbH1bZbL0

— Ukraine Battle Map (@ukraine_map) November 4, 2023
It is the latest in a series of successful SCALP ./ Storm Shadow cruise missile strikes against assets of the Russian Black Sea Fleet. Ukraine struck a yard in Sevastopol on September 12, destroying an amphibious assault ship and a Kilo-class attack submarine in a single blow. It also destroyed the fleet's headquarters building in downtown Sevastopol, inflicting an unknown number of casualties on the Russian Navy's general staff.