Ukraine's Black Sea Ports Coming Under Fierce Russian Attacks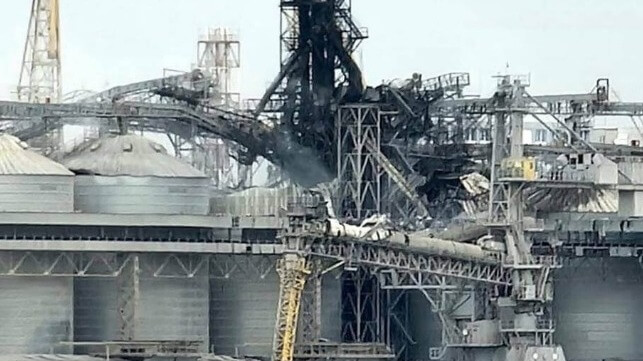 Ukraine's port cities and grain infrastructure came under intense attacks overnight as Russia appears to be focusing on disabling the facilities after it withdrew from the Black Sea Grain initiative brokered a year ago by the United Nations and Turkey. Ukraine initially said it had been able to repel most of the attacks on the Odesa region on Monday night, but Russia responded by intensifying the attacks Tuesday night in what officials are describing as one of the fiercest attacks in the war.
Official Russian statements have been that the attacks were in retaliation for damaging its bridge in the occupied region of Crimea. Russia's Defense Ministry confirmed sea-launched precision weapon attacks saying it was targeting Ukrainian military facilities in the Odesa region.
The first wave of attacks overnight on Monday consisted of six missiles all of which Ukraine claimed to have shot down. They also acknowledged 36 drone attacks saying that 31 were also shot down. Official reports from Ukraine said there was some unspecified damaged to port facilities mostly in Odesa but that Mykolaiv had also been targeted. Residents showed pictures of debris that had hit various buildings in Odesa.
Last night's attack was far more intense and focused on the port area in Odesa and Chornomorsk, south west of Odesa. Both facilities played a major role in the grain exports of the past year.
Ukraine's air force is acknowledging 63 missile and drone attacks contending that Russia used some of its fastest and highest-powered weapons, including anti-ship missiles on the city. Air defenses shot down on 37 strikes.
???????? On the night of July 19, 60,000 tons of grain were destroyed as a result of russian shelling at the "#Chornomorsk" port, Odesa. The deliberate targeting of grain for export is not merely an assault on #Ukraine but aimed at causing harm to the rest of the world.

According to… pic.twitter.com/pIbf4DlpXU

— Mriya Report (@MriyaReport) July 19, 2023
These photos were taken in the ports of Odesa and Chornomorsk. At night, Russia purposefully attacked grain terminals. The grain infrastructure of international and Ukrainian traders and carriers Kernel, Viterra, CMA CGM Group was damaged.

Is this still not enough to recognize… pic.twitter.com/yTstVHsj4T

— Oleksiy Goncharenko (@GoncharenkoUa) July 19, 2023
Pictures are being released showing fires burning in the port and damage to the grain loading equipment and terminals as well as warehouses and other structures. Ukrainian officials are saying that 60,000 tons of grain in Chornomorsk were destroyed in the attacks.
Ukrainian President Volodymyr Zelenskiy is accusing Russia of "deliberately targeting the infrastructure for the grain deal." He said that Russia has purposefully struck grain terminals and port facilities endangering food security.
As the attacks were ongoing, the last grain ship to depart from Ukraine, the Turkish-owned TQ Samsun, transited the Bosphorus in Turkey on July 18. The vessel had departed Odesa on Sunday, just hours before the deadline and shortly before Russia declared the region dangerous to shipping. The vessel is reportedly carrying over 38,000 metric tons of a combination of rapeseed and corn bound for the Netherlands.
UN officials said they were still looking for ways to restore the deal hours before news of the latest attacks was released. They said several ideas were being considered while Ukraine said it was working to open a coastal corridor to move grain from Odesa and Chornomorsk into neighboring Romania.
Military observers however are saying that Russia has formed in effect a naval blockade of the Odesa region launched just hours after the expiration of the grain deal on July 17. They are saying at least a dozen ships are stuck in the ports of Odesa and Mykolaiv.
Ukrainian officials are also reporting that Croatia is offering its railroad network and ports in the Adriatic Sea as a possible alternative route to transport grain. They are saying that Croatia has been in touch with the United Nations indicating that it was ready to assist in opening new routes to continue the movement of foodstuffs from the Black Sea.