Ukraine and Russia Face Off Over Fishing Boat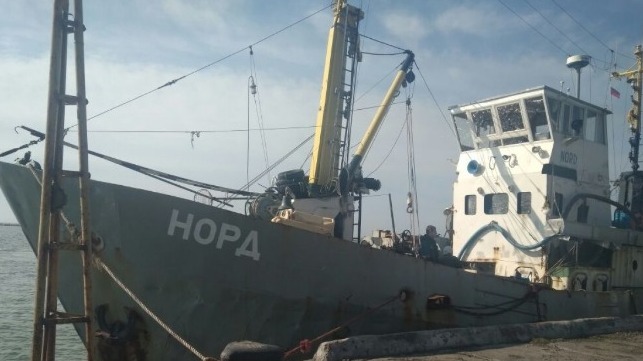 On Sunday, Ukrainian border forces detained the Russian-flagged, Crimean-registered fishing vessel Nord in the Sea of Azov, along with her crew of 10 fishermen. The Ukrainian authorities charge that the Nord illegally crossed Ukraine's maritime borders.
In response to the arrest, Russia's Federal Security Service (FSB) said Wednesday that Ukraine's State Border Guard Service had "hijacked" the Nord. The shipowner, a collective named "First of May," has appealed directly to the Russian Foreign Ministry for diplomatic intervention.
"The actions of the Border Guard Service of Ukraine are illegal and dangerous for the life and safety of the citizens of the Russian Federation and we ask that they take prompt measures to return the vessel . . . and its crew to the port of Kerch," the collective wrote.
According to the Ukrainian border service, the Nord was detained off the Obytichna peninsula, a spit extending into the northern end of the Sea of Azov. The service said that the Nord had papers showing that she was registered in Kerch, Crimea, and its crew possessed Crimean-issued passports identifying them as Russian citizens.
Russia annexed the Crimean peninsula in 2014, and it considers it to be a Russian territory known as the "Crimean Federal District." Ukraine and the international community assert that Crimea is still part of Ukraine. The Ukrainian government has implemented a national ban on vessels and seafarers with records of making port calls in Crimea, and it asserts that these ports are legally closed under Ukrainian law.
The Nord has been taken to Berdaynsk, a small Ukrainian port near Mariupol. The shipowner said that the crew had been interrogated by Ukrainian authorities and were forbidden to leave the vessel. They face charges of "illegally crossing the border," and the Nord's master has been charged with a "violation of the order of entry into the occupied territory of Ukraine," meaning Crimea.
If convicted, the crew of the Nord could face up to 15 days of administrative arrest. The master could be imprisoned for up to three years.