UAE Backs Renewed Push to Take Hodeidah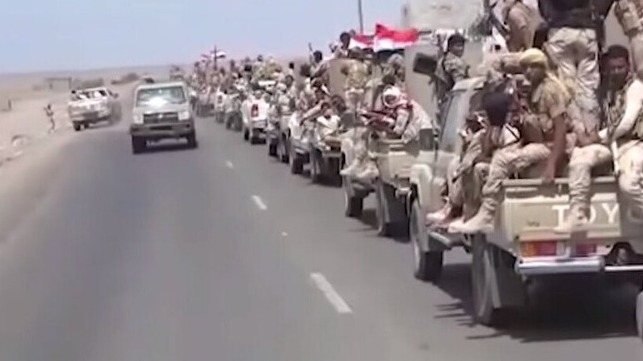 The Saudi-backed government of Yemen said Wednesday that it is launching a renewed assault to take the port city of Hodeidah, which has been held by Houthi rebels since the beginning of the Yemeni civil war. It is the country's most important port for the delivery of food and medicine, including critical aid supplied by the United Nations and partner agencies.
Yemeni government officials told reporters that armored vehicles have been delivered from the UAE, a member of the Saudi-led coalition, in advance of the assault. In addition, more troops have reportedly been brought into Yemen from Sudan.
"Thousands of trained fighters, including thousands of Sudanese soldiers, were transported to the southern areas of the port city of Hodeidah as a part of big preparations for a wider offensive aimed . . . to take full control over the city and its ports," said Colonel Mamoon Al Mahjami of the Yemeni government's Giant Brigade, a former Yemeni Army unit that has been re-equipped by the UAE.
Airstrikes and intermittent skirmishes have continued on Hodeidah's periphery. On Wednesday, a coalition airstrike killed at least 19 civilians and injured ten more at a vegetable market, leaving eight in critical condition, according to the Houthi government's health minister and the UN. The Yemeni government acknowledged civilian casualties but gave lower numbers, reporting five dead and eight wounded. Saudi coalition spokesman Colonel Turki al-Malki said that the airstrike will be investigated "using an internationally approved, independent process."
A United Nations investigative panel determined in August that Saudi coalition airstrikes have likely resulted in thousands of civilian casualties in Yemen, and that some coalition actions may amount to war crimes. In particular, the panel accused the Saudi Air Force of making little effort to avoid bombing the locations on its own "no strike list" of civilian infrastructure.
The panel noted that Houthi forces face similar allegations of depredations against civilians, including torture, indiscriminate shelling in urban areas and deploying child soldiers.
The United States, the UK and France provide Saudi Arabia with arms and other supplies necessary for its efforts in Yemen, and the war's critics have called on Western governments to halt their involvement. Germany announced a ban on arms sales to participants in the war in Yemen in March, though it has since approved at least one sale of military equipment to Saudi Arabia. It is now giving arms deals with Riyadh a new review due to an unrelated concern, the killing of Washington Post columnist Jamal Khashoggi by Saudi agents. The review could potentially endanger a longstanding Saudi contract for coastal patrol boats from Lurssen Shipyard.
On the other side of the conflict, Iran is supplying Houthi forces with funding and weaponry, including remote-controlled bomb boats and advanced missile technology, according to Western intelligence agencies.
Risk of famine
On Thursday, the UN called again for the fighting to cease in order to facilitate humanitarian relief efforts. "Yemen is facing the largest famine in recent memory," said Ms. Lise Grande, the UN Humanitarian Coordinator for Yemen. "There is no time to lose. Everything possible has to be done to help save the 14 million people who are at risk of famine. The first, most important step, is to stop the fighting."
The UN says that at present, Yemen is the home of the world's worst humanitarian crisis. Twenty-two million people, about three out of every four, require some form of humanitarian assistance and protection. Official estimates for the war's civilian death toll range from 10-16,000, but the UN Panel of Experts noted that the actual total is likely much higher. The independent Armed Conflict Location and Event Data Project (ACLED) estimates that the total is in the range of 56,000 individuals.