U.S. Senate May Approve $150M Fund to Crack Down on Iranian Oil Again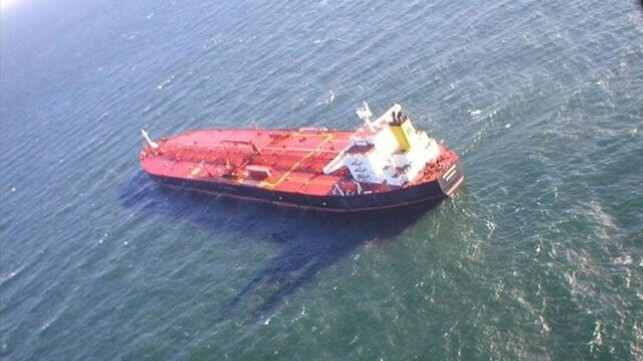 The U.S. Senate is getting ready to fully fund the enforcement of sanctions on Iranian oil shipping, putting teeth into existing restrictions.
The U.S. has imposed sanctions on moving or buying Iranian oil since the Trump administration withdrew from the Joint Comprehensive Plan of Action (Iran nuclear deal) in 2018-19. Enforcement was initially forceful, and Iran's oil exports quickly fell from about 2.9 million barrels per day to just 775,000 barrels per day. Since the beginning of the Biden administration - which has quietly prioritized diplomatic re-engagement with Tehran - Iran's oil exports have risen back up to to about two million barrels per day, according to recent assessments by Bloomberg.
The new bill, sponsored by Sen. Joni Ernst, would provide $150 million to create a sanctions-enforcement fund for Homeland Security Investigations, the department tasked with conducting Iranian oil cargo seizures. The fund would be self-replenishing using the proceeds of asset forfeiture sales. Since these operations can be resource-intensive, the permanent fund would boost the effort, Ernst's staff told Reuters.
Using evidence gathered by HSI, the U.S. government has seized two oil cargoes - one aboard the Suez Rajan in 2022-23, and one that was split between tankers Arina and Nostos in 2021.
A U.S.-sponsored attempt to seize the cargo aboard the tanker Lana (ex name Pegas) was made in April 2022, with the help of Greek authorities. Iran quickly retaliated by seizing two Greek tankers, Delta Poseidon and Prudent Warrior, in the Strait of Hormuz. Greek authorities allowed an Iranian tanker to take the seized oil back four months later.
Ernst's bill is one of many possible ways to penalize Iran for its role in building up Hamas, the U.S.-designated terrorist organization that carried out the brutal attacks in Israel on October 7. Iran has sponsored Hamas and an allied Lebanese militant movement, Hezbollah, for many decades; the Wall Street Journal reports that Islamic Revolutionary Guard Corps officers from Iran were in the room with Hamas while the attacks were being planned.
https://www.wsj.com/world/middle-east/iran-israel-hamas-strike-planning-bbe07b25