U.S. Navy Taps Reservists to Fill High-Tech Roles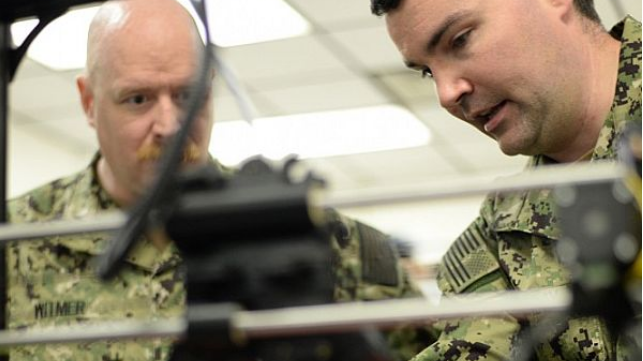 The U.S. Navy needs to find and retain thousands of skilled engineers, coders, cybersecurity experts and other professionals to carry out its mission. The steep pay gap between the armed services and the private sector can make tech staffing a challenge, but the Navy has found an important reservoir of civilian talent that it can tap: reservists.
In a prominent example the service publicized this week, a Navy reservist who happens to be a senior manufacturing engineer in the private sector is contributing his knowledge of 3D printing technology to assist the armed forces.
Lt. Jake Lunday started using a 3D printer in his garage as a hobby, and as an engineer he quickly discovered its utility for prototyping, making spare parts and improving designs. Lt. Lunday decided to voluntarily list this experience on his profile in the Navy's Standard Integrated Personnel System. The Navy Reserve saw the update, and it immediately wanted to put his skills to use. He has since taken orders to assist Navy Expeditionary Combat Command, Naval Sea Systems Command (NAVSEA) and Naval Air Systems Command with 3D printing projects.
"I've been fortunate to be plugged into so many exciting projects," Lunday said. "I am grateful the Navy Reserve team is embracing the pairing of civilian skillsets with our military roles."
Lt. Cmdr. James Tilden, the Navy Reserve assistant director for personnel policy, says that over the past year the Navy Reserve has seen a large increase in demand from units requesting sailors with specific skills. Keeping electronic records of reservists' civilian talents helps find qualified personnel to fill this need.
DoD policy prohibits the involuntary mobilization or activation of Reserve sailors based on their civilian skills, so finding and selecting these personnel based on their self-described civilian skillsets is a balancing act. But Lt. Cmdr. Tilden says the balance is necessary. "The information is important because it delineates critical civilian skills that could be outside one's rate or designator," he said.
The Navy has recently called up reservists like Cmdr. Brian Hall, who works in cyber assessments in his civilian job and volunteered for orders assessing the cybersecurity of aircraft carriers, and Lt. Cmdr. Rob Liu, who leveraged his background as a data scientist to lead in the development, planning, assessment and accountability efforts with the newly established Digital Warfare Office — a unique in-house capability that would normally need to be contracted out.